Transformers Logo Wallpaper
&nbsp
Free and Legal Music Downloads! Act Now!
Wallpaper of the Transformers Logo from Transformers Revenge of the Fallen HD movie wallpaper.
See all Transformers wallpaper -->
In 2007, a live action film of Transformers was directed by Michael Bay and produced by Steven Spielberg. The main focus of the film revolved around the creator of the Transformers, which in the film is described as the Allspark, as well as their home planet Cybertron. The film portrayed the Allspark as a large cube of energy that can create life from mechanical objects. During the Cybertronian Civil War, the Allspark was sent off the planet and eventually landed on Earth, where it was discovered by the U.S. government and the Hoover Dam was built over it as a top-secret research facility and government base. Megatron searched for the Allspark and eventually found Earth, but he crash-landed in the Arctic and was frozen. Many years later he was found and also brought to the same facility as the Allspark. With their homeworld ravaged by war, the Autobots were dispersed throughout space. But a group of Autobots led by Optimus Prime traveled to Earth in search of the Allspark, in an attempt to revitalize their planet. However, the Decepticons also race towards Earth to find the Allspark, as well as their leader, Megatron. The film depicts the battle over the Allspark on Earth. The Transformers are depicted as mechanical beings that can reconstruct their outside appearance through scanning or touching a mechanical object of relative size to each Transformer's body. This Transformers desktop background wallpaper picture image is copyright by Dreamworks and Paramount Studios and can be used with Windows and Mac as well iPhone and iPad wallpaper backgrounds.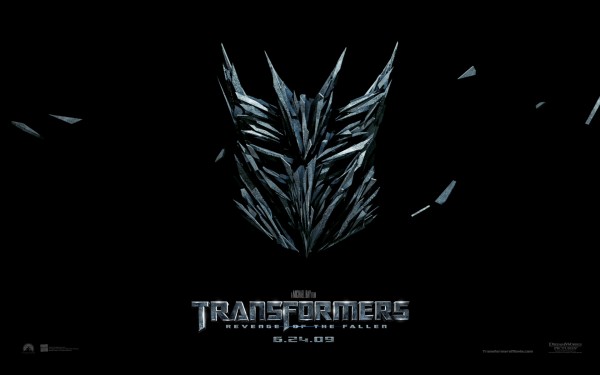 Transformers Logo wallpaper - Click picture for high resolution HD wallpaper
Mac/PC Instructions:
Click preview image above to download or view full size free desktop wallpaper.
Right-click on full size image and select option to set as wallpaper or desktop background/picture.
iPhone/iPad Instructions:
Tap preview image above to display full size wallpaper image for the iPhone/iPad.
Touch and hold your finger on the image until the side-up menu appears and select "Save Image".
Go to Settings and select Wallpaper.
Select either the lock screen or springboard background.
Select "Camera Roll" and find the image you saved in step 2 and tap it.
Move and scale the image as desired, then tap "set" to set iPhone/iPad wallpaper background.
License and Terms of Use
These pictures are NOT stock photos and may not be used as such.
Wallpaper images are licensed for personal use as desktop backgrounds ONLY.
All commercial use of these images and pictures is prohibited.
These desktop backgrounds and wallpapers may NOT be reproduced, retransmitted, or redistributed in whole or in part, in any form or by any means, without express written consent.
Wallpaper may NOT be altered or modified.
The watermark on the picture may NOT be altered, removed or obscured.
Browse More Free Wallpaper Like This Picture: