Track Layout for Leviathan at Canada's Wonderland Wallpaper
&nbsp
Free and Legal Music Downloads! Act Now!
A diagram showing the track layout for the Leviathan roller coaster, new for 2012 at Canada's Wonderland theme park wallpaper.
See all roller coaster wallpaper -->
See all theme park wallpaper -->
In 2012, Canada's Wonderland will unveil one of the biggest and tallest roller coasters in the world: Leviathan. When the Park opens in May 2012, Leviathan will dominate the Park's landscape, taking riders to breathtaking heights and speeds never experienced before at Wonderland.
The excitement begins on Leviathan's first lift hill as riders climb to a record breaking height of 306 feet (93.3M) followed by an exhilarating 80 degree drop. Reaching a top speed of 148 kilometers per hour, riders will experience extreme coaster thrills on 5,486 feet (1,672M) of track that includes a series of giant camelback hills reaching heights up to 180 feet (54.9M), and an astonishing overbanked hammerhead turn at 115 degrees that will cross above the Park's front gate at 147 feet (44.8M) high.
"Leviathan will be our 16th coaster and now positions Canada's Wonderland as one of the top three coaster destinations in the world." said Raffi Kaprelyan, Vice President and General Manager, Canada's Wonderland. "We will go higher, longer, and faster than ever before when we launch Leviathan in 2012. With the addition of this new coaster and our diverse collection of rides, shows and attractions, we continue to show why Canada's Wonderland is the destination of choice for those seeking world class thrills and family entertainment."
Leviathan is designed and manufactured by Bolliger & Mabillard, of Monthey, Switzerland. The highly recognized industry leader in roller coaster development also constructed Behemoth, which premiered at Canada's Wonderland in May 2008. This roller coaster desktop background wallpaper can be used on Mac and PC as well iPhone/iPad/Android wallpaper.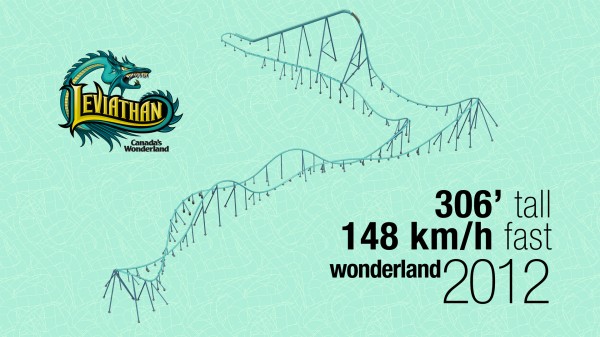 Track Layout for Leviathan at Canada's Wonderland wallpaper - Click picture for high resolution HD wallpaper
Mac/PC Instructions:
Click preview image above to download or view full size free desktop wallpaper.
Right-click on full size image and select option to set as wallpaper or desktop background/picture.
iPhone/iPad Instructions:
Tap preview image above to display full size wallpaper image for the iPhone/iPad.
Touch and hold your finger on the image until the side-up menu appears and select "Save Image".
Go to Settings and select Wallpaper.
Select either the lock screen or springboard background.
Select "Camera Roll" and find the image you saved in step 2 and tap it.
Move and scale the image as desired, then tap "set" to set iPhone/iPad wallpaper background.
License and Terms of Use
These pictures are NOT stock photos and may not be used as such.
Wallpaper images are licensed for personal use as desktop backgrounds ONLY.
All commercial use of these images and pictures is prohibited.
These desktop backgrounds and wallpapers may NOT be reproduced, retransmitted, or redistributed in whole or in part, in any form or by any means, without express written consent.
Wallpaper may NOT be altered or modified.
The watermark on the picture may NOT be altered, removed or obscured.
Browse More Free Wallpaper Like This Picture: