The Eiffel Tower in Paris Wallpaper
&nbsp
Free and Legal Music Downloads! Act Now!
Wallpaper picture of the iconic Eiffel Tower in Paris, France. The Eiffel Tower (French: La Tour Eiffel, nickname La dame de fer, the iron lady) is an 1889 iron lattice tower located on the Champ de Mars in Paris that has become both a global icon of France and one of the most recognizable structures in the world. The tallest building in Paris, it is the most-visited paid monument in the world; millions of people ascend it every year. Named for its designer, engineer Gustave Eiffel, the tower was built as the entrance arch to the 1889 World's Fair. The tower stands 324 metres (1,063 ft) tall, about the same height as an 81-storey building. Upon its completion, it surpassed the Washington Monument to assume the title of tallest man-made structure in the world, a title it held for 41 years, until the Chrysler Building in New York City was built in 1930. Not including broadcast antennas, it is the second-tallest structure in France after the 2004 Millau Viaduct. The tower has three levels for visitors. Tickets can be purchased to ascend, by stairs or lift, to the first and second levels. The walk to the first level is over 300 steps, as is the walk from the first to the second level. The third and highest level is accessible only by elevator. Both the first and second levels feature restaurants.
The tower has become the most prominent symbol of both Paris and France, often in the establishing shot of films set in the city.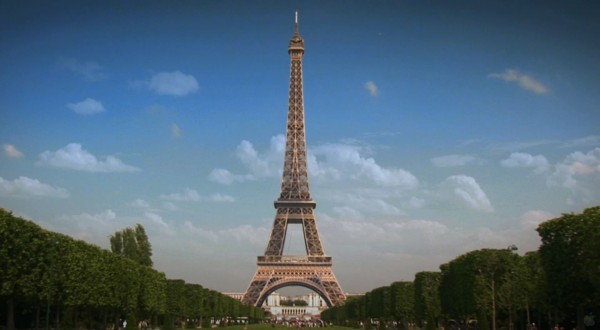 The Eiffel Tower in Paris wallpaper - Click picture for high resolution HD wallpaper
Mac/PC Instructions:
Click preview image above to download or view full size free desktop wallpaper.
Right-click on full size image and select option to set as wallpaper or desktop background/picture.
iPhone/iPad Instructions:
Tap preview image above to display full size wallpaper image for the iPhone/iPad.
Touch and hold your finger on the image until the side-up menu appears and select "Save Image".
Go to Settings and select Wallpaper.
Select either the lock screen or springboard background.
Select "Camera Roll" and find the image you saved in step 2 and tap it.
Move and scale the image as desired, then tap "set" to set iPhone/iPad wallpaper background.
License and Terms of Use
These pictures are NOT stock photos and may not be used as such.
Wallpaper images are licensed for personal use as desktop backgrounds ONLY.
All commercial use of these images and pictures is prohibited.
These desktop backgrounds and wallpapers may NOT be reproduced, retransmitted, or redistributed in whole or in part, in any form or by any means, without express written consent.
Wallpaper may NOT be altered or modified.
The watermark on the picture may NOT be altered, removed or obscured.
Browse More Free Wallpaper Like This Picture: