Red the Fire Engine Truck from Disney-Pixar Cars Movie Wallpaper
&nbsp
Free and Legal Music Downloads! Act Now!
Download the Cars 2 movie soundtrack now!
See all Pixar Cars wallpaper...
See all animation wallpaper...
This is wallpaper of Red the fire truck from the Disney/Pixar CG animated movie Cars and Cars 2. Red is a gentle giant; a big strong fire engine who's painfully shy and quite sensitive. When he's not cheerfully helping out his neighbors, you can find him lovingly watering the flowers he grows in town, or hiding out in the firehouse where he lives beneath the Court House.

Red may not be a fire truck of many words, but what he doesn't say he shows through his generous actions. Whether it's putting out a tire fire or caring for the beautiful flowers in town, Red is there to support and protect his beloved town.

Red takes negative comments about his town very personally. So if you have something bad to say about Radiator Springs you'd better watch out. Because, if there's one thing Red is not afraid of, it's his emotions.

Quotable Quote: Red's too shy for words
After taking moviegoers magically into the realm of toys, bugs, monsters, fish, and superheroes, the masterful storytellers and technical wizards at Pixar Animation Studios ("The Incredibles," "Finding Nemo," "Monsters, Inc.") and Academy Award®-winning director John Lasseter ("Toy Story," "Toy Story 2," "A Bug's Life"), hit the road with a fast-paced comedy adventure set inside the world of cars. A Pixar Animation Studios film presented by Walt Disney Pictures, "CARS" is a high octane delight for moviegoers of all ages, fueled with plenty of humor, action, heartfelt drama, and amazing new technical feats. Adding to the fun is a driving score and new songs by Oscar®-winner Randy Newman, along with original musical performances by such top talents as Sheryl Crow, James Taylor, Brad Paisley, Rascal Flatts, and John Mayer. The film coincides with the celebration of Pixar's 20th anniversary, and the company's recent acquisition by Disney. This Disney/Pixar Cars 2 movie desktop background wallpaper image photo picture iPhone wallpaper and iPad compatible wallpaper is copyright Walt Disney Pictures and Pixar.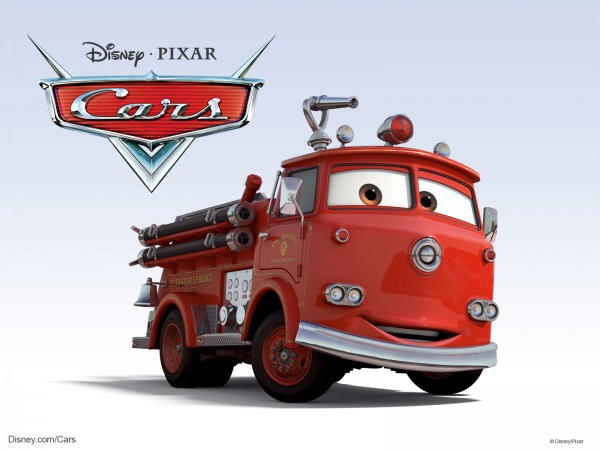 Red the Fire Engine Truck from Disney-Pixar Cars Movie wallpaper - Click picture for high resolution HD wallpaper
Mac/PC Instructions:
Click preview image above to download or view full size free desktop wallpaper.
Right-click on full size image and select option to set as wallpaper or desktop background/picture.
iPhone/iPad Instructions:
Tap preview image above to display full size wallpaper image for the iPhone/iPad.
Touch and hold your finger on the image until the side-up menu appears and select "Save Image".
Go to Settings and select Wallpaper.
Select either the lock screen or springboard background.
Select "Camera Roll" and find the image you saved in step 2 and tap it.
Move and scale the image as desired, then tap "set" to set iPhone/iPad wallpaper background.
License and Terms of Use
These pictures are NOT stock photos and may not be used as such.
Wallpaper images are licensed for personal use as desktop backgrounds ONLY.
All commercial use of these images and pictures is prohibited.
These desktop backgrounds and wallpapers may NOT be reproduced, retransmitted, or redistributed in whole or in part, in any form or by any means, without express written consent.
Wallpaper may NOT be altered or modified.
The watermark on the picture may NOT be altered, removed or obscured.
Browse More Free Wallpaper Like This Picture: