Rafael from Rio 2 Wallpaper
&nbsp
Free and Legal Music Downloads! Act Now!
Rafael from Rio 2.
Click to see all Rio Movie wallpaper...
Download the Rio 2 movie soundtrack now!
The entire cast of the animated smash RIO returns in RIO 2, and they are joined by a new flock of top actors and musical talents. Rich with grandeur, character, color and music, RIO 2 finds Jewel (Anne Hathaway), Blu (Jesse Eisenberg) and their three kids leaving their domesticated life in that magical city for a journey to the Amazon. They encounter a menagerie of characters who are born to be wild, voiced by Oscar nominee Andy Garcia, Oscar/Emmy/Tony-winner Rita Moreno, Grammy winner Bruno Mars, and Tony winner Kristin Chenoweth. Returning characters from the first movie are Rafael the toucan (George Lopez), Nigel the cockatoo (Jemaine Clement), Luiz the dog (Tracy Morgan), Nico (Jamie Foxx), Pedro (will.i.am). New characters are Bia (Amandla Stenberg), Tiago (Pierce Gagnon), Carla (Rachel Crow), Gabi (Kristin Chenoweth), Eduargo (Andy Garcia), Mimi (Rita Moreno) and Charlie.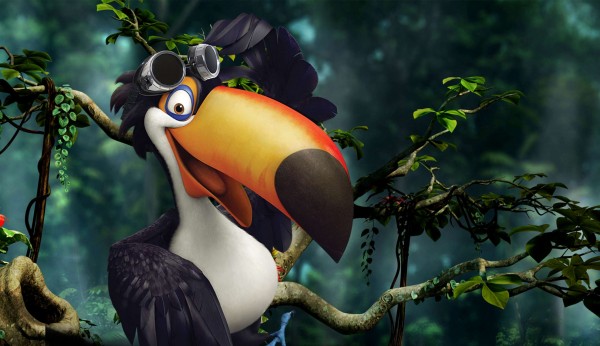 Rafael from Rio 2 wallpaper - Click picture for high resolution HD wallpaper
Mac/PC Instructions:
Click preview image above to download or view full size free desktop wallpaper.
Right-click on full size image and select option to set as wallpaper or desktop background/picture.
iPhone/iPad Instructions:
Tap preview image above to display full size wallpaper image for the iPhone/iPad.
Touch and hold your finger on the image until the side-up menu appears and select "Save Image".
Go to Settings and select Wallpaper.
Select either the lock screen or springboard background.
Select "Camera Roll" and find the image you saved in step 2 and tap it.
Move and scale the image as desired, then tap "set" to set iPhone/iPad wallpaper background.
License and Terms of Use
These pictures are NOT stock photos and may not be used as such.
Wallpaper images are licensed for personal use as desktop backgrounds ONLY.
All commercial use of these images and pictures is prohibited.
These desktop backgrounds and wallpapers may NOT be reproduced, retransmitted, or redistributed in whole or in part, in any form or by any means, without express written consent.
Wallpaper may NOT be altered or modified.
The watermark on the picture may NOT be altered, removed or obscured.
Browse More Free Wallpaper Like This Picture: