Natasha Romanoff from Iron Man 2 Wallpaper
&nbsp
Free and Legal Music Downloads! Act Now!
NATASHA ROMANOFF played by SCARLETT JOHANSSON in Iron Man 2. An agent of S. H. I. E. L. D. (Strategic Homeland Intervention, Enforcements and Logistics Division) and currently operating as a Notary Public in Stark Industries' Legal department, Natalie (a.k.a. Black Widow) is one of Tony's newest and most valuable employees.
With more than a decade of work already under her belt, four-time Golden Globe nominee and BAFTA winner SCARLETT JOHANSSON (Natalie/Black Widow) has proven to be one of Hollywood's most talented young actresses. Johansson received rave reviews and a Best Actress Award at the Venice Film Festival for her starring role opposite Bill Murray in "Lost in Translation," the critically acclaimed second film by director Sofia Coppola.
In May 2008 she released her album "Anywhere I Lay My Head," a collection of Tom Waits covers featuring one original song. Recently she was seen in the box office hit "He's Just Not That Into You," as well as in Frank Miller's "The Spirit." Prior to that she starred in the Woody Allen film "Vicky Cristina Barcelona" and played Mary Boleyn opposite Natalie Portman in "The Other Boleyn Girl."
At the age of 12, Johansson attained worldwide recognition for her performance as Grace MacLean, a teenager traumatized by a riding accident in Robert Redford's "The Horse Whisperer." She went on to star in Terry Zwigoff's "Ghost World," garnering a Best Supporting Actress Award from the Toronto Film Critics Circle. Johansson was also featured in the Coen Brothers' dark drama "The Man Who Wasn't There," opposite Billy Bob Thornton and Frances McDormand.
Her other film credits include the critically acclaimed Weitz brothers' film "In Good Company," as well as opposite John Travolta in "A Love Song for Bobby Long," which garnered her a Golden Globe nomination (her third in two years) and Woody Allen's "Match Point," which garnered her fourth consecutive Golden Globe nomination in three years. Other film credits include "Girl with a Pearl Earring" opposite Colin Firth, "The Island" opposite Ewan McGregor, Brian De Palma's "The Black Dahlia," Christopher Nolan's "The Prestige" and "The Nanny Diaries."
Her additional credits include Rob Reiner's comedy "North," the thriller "Just Cause" with Sean Connery and Laurence Fishburne, and a breakthrough role at the age of 10 in the critically-praised "Manny & Lo," which earned her an Independent Spirit Award nomination for Best Female Lead.
A New York native, Johansson made her professional acting debut at the age of eight in the off-Broadway production of "Sophistry" with Ethan Hawke at New York's Playwrights Horizons.
Johansson currently divides her time between New York and Los Angeles.
Click to see all Iron Man wallpaper
Get Iron Man 2 videos, toys and games
Paramount Pictures and Marvel Entertainment present the highly anticipated sequel to the blockbuster film based on the legendary Marvel Super Hero "Iron Man," reuniting director Jon Favreau and Oscar® nominee Robert Downey Jr. In "Iron Man 2," the world is aware that billionaire inventor Tony Stark (Robert Downey Jr.) is the armored Super Hero Iron Man. Under pressure from the government, the press and the public to share his technology with the military, Tony is unwilling to divulge the secrets behind the Iron Man armor because he fears the information will slip into the wrong hands. With Pepper Potts (Gwyneth Paltrow), and James "Rhodey" Rhodes (Don Cheadle) at his side, Tony forges new alliances and confronts powerful new forces. This Iron Man desktop background wallpaper photo image iPhone wallpaper iPad background is copyright by Paramount Pictures and Marvel Entertainment.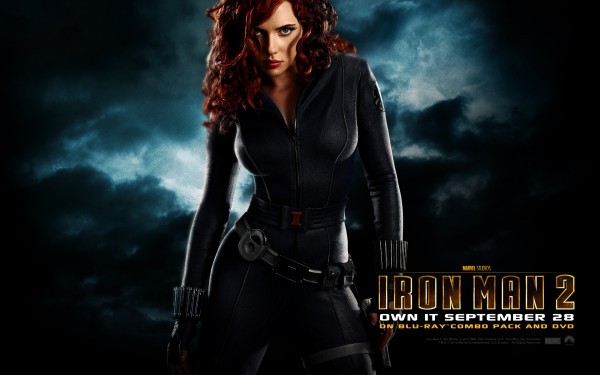 Natasha Romanoff from Iron Man 2 wallpaper - Click picture for high resolution HD wallpaper
Mac/PC Instructions:
Click preview image above to download or view full size free desktop wallpaper.
Right-click on full size image and select option to set as wallpaper or desktop background/picture.
iPhone/iPad Instructions:
Tap preview image above to display full size wallpaper image for the iPhone/iPad.
Touch and hold your finger on the image until the side-up menu appears and select "Save Image".
Go to Settings and select Wallpaper.
Select either the lock screen or springboard background.
Select "Camera Roll" and find the image you saved in step 2 and tap it.
Move and scale the image as desired, then tap "set" to set iPhone/iPad wallpaper background.
License and Terms of Use
These pictures are NOT stock photos and may not be used as such.
Wallpaper images are licensed for personal use as desktop backgrounds ONLY.
All commercial use of these images and pictures is prohibited.
These desktop backgrounds and wallpapers may NOT be reproduced, retransmitted, or redistributed in whole or in part, in any form or by any means, without express written consent.
Wallpaper may NOT be altered or modified.
The watermark on the picture may NOT be altered, removed or obscured.
Browse More Free Wallpaper Like This Picture: