Mr. Peabody and Sherman in Ancient Greece Wallpaper
&nbsp
Free and Legal Music Downloads! Act Now!
Click to see all Mr. Peabody and Sherman wallpaper -->
Mr. Peabody and Sherman from the DreamWorks CG animated movie. Mr. Peabody, the world's most extraordinary dog, and his adopted son Sherman travel in time with Mr. Peabody's WABAC (Way-Back) Machine and have an adventure. The Mr. Peabody and Sherman movie is a modern take on the original short cartoons called Peabody's Improbably History that was part of the Rocky and Bullwinkle show. Peabody's Improbable History features a genius talking dog named Mister Peabody who has a pet boy named Sherman. Peabody and Sherman use Peabody's "WABAC machine" (pronounced "way-back", spelled WAYBAC in season 1, episode 4, and partially a play on names of early computers such as UNIVAC and ENIAC) to go back in time to discover the real story behind historical events, and in many cases, intervene with uncooperative historical figures to ensure that events transpire as history has recorded. The term "Wayback Machine" is used to this day in Internet applications such as Wikipedia and the Internet Archive to refer to the ability to see or revert to older content. These segments are famous for including a pun at the end.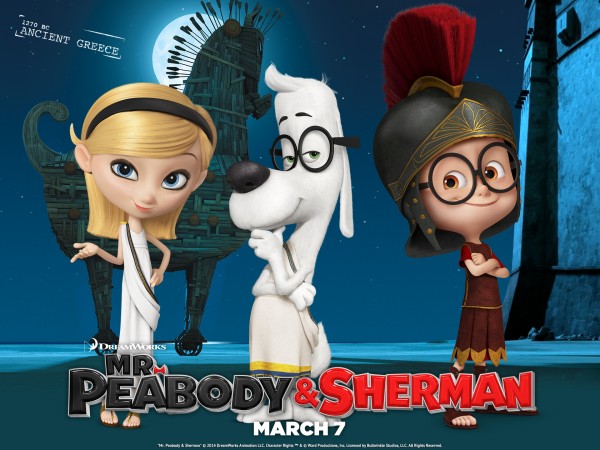 Mr. Peabody and Sherman in Ancient Greece wallpaper - Click picture for high resolution HD wallpaper
Mac/PC Instructions:
Click preview image above to download or view full size free desktop wallpaper.
Right-click on full size image and select option to set as wallpaper or desktop background/picture.
iPhone/iPad Instructions:
Tap preview image above to display full size wallpaper image for the iPhone/iPad.
Touch and hold your finger on the image until the side-up menu appears and select "Save Image".
Go to Settings and select Wallpaper.
Select either the lock screen or springboard background.
Select "Camera Roll" and find the image you saved in step 2 and tap it.
Move and scale the image as desired, then tap "set" to set iPhone/iPad wallpaper background.
License and Terms of Use
These pictures are NOT stock photos and may not be used as such.
Wallpaper images are licensed for personal use as desktop backgrounds ONLY.
All commercial use of these images and pictures is prohibited.
These desktop backgrounds and wallpapers may NOT be reproduced, retransmitted, or redistributed in whole or in part, in any form or by any means, without express written consent.
Wallpaper may NOT be altered or modified.
The watermark on the picture may NOT be altered, removed or obscured.
Browse More Free Wallpaper Like This Picture: