Manny from Ice Age Wallpaper
&nbsp
Free and Legal Music Downloads! Act Now!
Manny the wooly mammoth from the Ice Age movies. The normally super-cool Manny gets thrown for a loop as he gets ready to become a parent. He learns that Ellie is pregnant, and goes off the deep end making sure everything is perfect for the mammoth-size bundle of joy. He is off his game, but still ready to lead the herd.
Click to see all Ice Age wallpaper
Click to see all dinosaur wallpaper
Get Ice Age videos, toys and games
The sub-zero heroes from the worldwide CG animated blockbuster movies "Ice Age" and "Ice Age: The Meldown" are back, on an incredible adventure...for the ages in "Ice Age 3: Dawn of the Dinosaurs". Scrat is still trying to nab the ever-elusive nut (while, maybe, finding true love); Manny and Ellie await the birth of their mini-mammoth; Diego the saber-toothed tiger wonders if he's growing too "soft" hanging with his pals and Sid the sloth gets into trouble when he creates his own makeshift family by hijacking some dinosaur eggs. On a mission to rescue the hapless Sid, the gang ventures into a mysterious underground world, where they have some close encounters with dinosaurs, battle flora and fauna, run amuck, and meet a relentless, one-eyed, dino-hunting weasel named Buck. This desktop background wallpaper photo image iPhone wallpaper iPad background is copyright 20th Century Fox.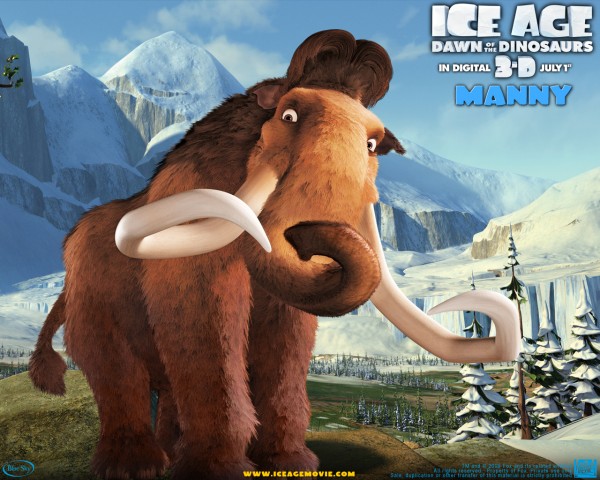 Manny from Ice Age wallpaper - Click picture for high resolution HD wallpaper
Mac/PC Instructions:
Click preview image above to download or view full size free desktop wallpaper.
Right-click on full size image and select option to set as wallpaper or desktop background/picture.
iPhone/iPad Instructions:
Tap preview image above to display full size wallpaper image for the iPhone/iPad.
Touch and hold your finger on the image until the side-up menu appears and select "Save Image".
Go to Settings and select Wallpaper.
Select either the lock screen or springboard background.
Select "Camera Roll" and find the image you saved in step 2 and tap it.
Move and scale the image as desired, then tap "set" to set iPhone/iPad wallpaper background.
License and Terms of Use
These pictures are NOT stock photos and may not be used as such.
Wallpaper images are licensed for personal use as desktop backgrounds ONLY.
All commercial use of these images and pictures is prohibited.
These desktop backgrounds and wallpapers may NOT be reproduced, retransmitted, or redistributed in whole or in part, in any form or by any means, without express written consent.
Wallpaper may NOT be altered or modified.
The watermark on the picture may NOT be altered, removed or obscured.
Browse More Free Wallpaper Like This Picture: