Luiz on the Beach in Rio Wallpaper
&nbsp
Free and Legal Music Downloads! Act Now!
Wallpaper picture of Luiz the bulldog dog on the beach from the CG animated movie Rio from 20th Century Fox wallpaper.
Click to see all Rio Movie wallpaper...
Download the Rio movie soundtrack now!
A mean-looking but friendly bulldog, Luiz aids Blu in his journey. His slobbery bite proves that "drool is cool."
'Rio' is a 3-D computer animation feature from the makers of the 'Ice Age' films featuring a beautifully rendered cast of feathered birds. Set in the magnificent city of Rio de Janeiro and the lush rainforest of Brazil, the comedy-adventure centers on Blu, a rare macaw who thinks he is the last of his kind. When Blu discovers there's another — and that she's a she — he leaves the comforts of his cage in small town Minnesota and heads to Rio. But it's far from love at first sight between the domesticated and flight-challenged Blu and the fiercely independent, high-flying female, Jewel. Unexpectedly thrown together, they embark on an adventure of a lifetime, where they learn about friendship, love, courage, and being open to life's many wonders. 'Rio' brings together a menagerie of vivid characters, a heart-warming story, colorful backdrops, energizing Latin and contemporary music, and family-friendly song and dance. Rio the moive features the voice talents of Jesse Eisenberg as Blu the macaw, Anne Hathaway as Jewel (also a macaw bird) and George Lopez at the toucan Rafael. This Rio movie desktop background wallpaper picture photo image compatible with iPhone and iPad wallaper is copyright by 20th Century Fox.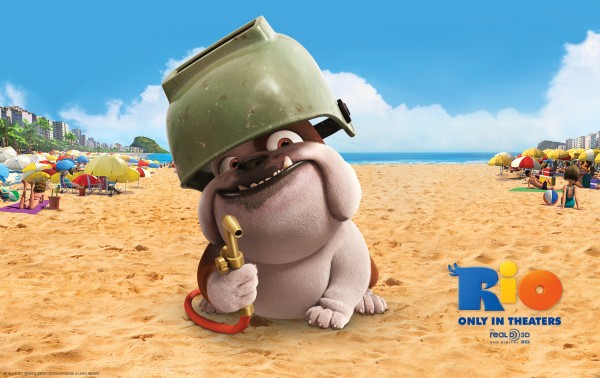 Luiz on the Beach in Rio wallpaper - Click picture for high resolution HD wallpaper
Mac/PC Instructions:
Click preview image above to download or view full size free desktop wallpaper.
Right-click on full size image and select option to set as wallpaper or desktop background/picture.
iPhone/iPad Instructions:
Tap preview image above to display full size wallpaper image for the iPhone/iPad.
Touch and hold your finger on the image until the side-up menu appears and select "Save Image".
Go to Settings and select Wallpaper.
Select either the lock screen or springboard background.
Select "Camera Roll" and find the image you saved in step 2 and tap it.
Move and scale the image as desired, then tap "set" to set iPhone/iPad wallpaper background.
License and Terms of Use
These pictures are NOT stock photos and may not be used as such.
Wallpaper images are licensed for personal use as desktop backgrounds ONLY.
All commercial use of these images and pictures is prohibited.
These desktop backgrounds and wallpapers may NOT be reproduced, retransmitted, or redistributed in whole or in part, in any form or by any means, without express written consent.
Wallpaper may NOT be altered or modified.
The watermark on the picture may NOT be altered, removed or obscured.
Browse More Free Wallpaper Like This Picture: