Fiona from Shrek Forever After Wallpaper
&nbsp
Free and Legal Music Downloads! Act Now!
This is Fiona the ogre from the Dreamworks movie "Shrek Forever After" also known as "Shrek The Final Chapter". This movie brings back the original movie cast with Mike Myers as Shrek, Eddie Murphy as Donkey and Cameron Diaz as Fiona.

See all Shrek desktop wallpaper
Download the Shrek movie soundtrack now!
After challenging an evil dragon, rescuing a beautiful princess and saving your in-laws' kingdom, what's an ogre to do? Well, if you're Shrek, you suddenly wind up a domesticated family man. Instead of scaring villagers away like he used to, a reluctant Shrek now agrees to autograph pitch forks. What's happened to this ogre's roar? Longing for the days when he felt like a "real ogre," Shrek is duped into signing a pact with the smooth-talking dealmaker, Rumpelstiltskin. Shrek suddenly finds himself in a twisted, alternate version of Far Far Away, where ogres are hunted, Rumpelstiltskin is king and Shrek and Fiona have never met. Now, it's up to Shrek to undo all he's done in the hopes of saving his friends, restoring his world and reclaiming his one True Love.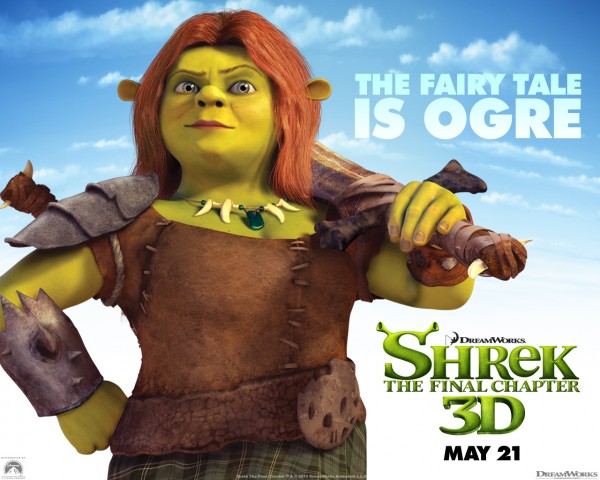 Fiona from Shrek Forever After wallpaper - Click picture for high resolution HD wallpaper
Mac/PC Instructions:
Click preview image above to download or view full size free desktop wallpaper.
Right-click on full size image and select option to set as wallpaper or desktop background/picture.
iPhone/iPad Instructions:
Tap preview image above to display full size wallpaper image for the iPhone/iPad.
Touch and hold your finger on the image until the side-up menu appears and select "Save Image".
Go to Settings and select Wallpaper.
Select either the lock screen or springboard background.
Select "Camera Roll" and find the image you saved in step 2 and tap it.
Move and scale the image as desired, then tap "set" to set iPhone/iPad wallpaper background.
License and Terms of Use
These pictures are NOT stock photos and may not be used as such.
Wallpaper images are licensed for personal use as desktop backgrounds ONLY.
All commercial use of these images and pictures is prohibited.
These desktop backgrounds and wallpapers may NOT be reproduced, retransmitted, or redistributed in whole or in part, in any form or by any means, without express written consent.
Wallpaper may NOT be altered or modified.
The watermark on the picture may NOT be altered, removed or obscured.
Browse More Free Wallpaper Like This Picture: