Carina Nebula Wallpaper
&nbsp
Free and Legal Music Downloads! Act Now!
Previously unseen details of a mysterious, complex structure within the Carina Nebula (NGC 3372) are revealed by this image of the "Keyhole Nebula," obtained with NASA's Hubble Space Telescope. The picture is a montage assembled from four different April 1999 telescope pointings with Hubble's Wide Field Planetary Camera 2, which used six different color filters. The picture is dominated by a large, approximately circular feature, which is part of the Keyhole Nebula, named in the 19th century by Sir John Herschel. This region, about 8000 light-years from Earth, is located adjacent to the famous explosive variable star Eta Carinae, which lies just outside the field of view toward the upper right. The high resolution of the Hubble images reveals the relative three- dimensional locations of many of these features, as well as showing numerous small dark globules that may be in the process of collapsing to form new stars. Two striking large, sharp-edged dust clouds are located near the bottom center and upper left edges of the image. The former is immersed within the ring and the latter is just outside the ring. The pronounced pillars and knobs of the upper left cloud appear to point toward a luminous, massive star located just outside the field further toward the upper left, which may be responsible for illuminating and sculpting them by means of its high-energy radiation and stellar wind of high-velocity ejected material. These large dark clouds may eventually evaporate, or if there are sufficiently dense condensations within them, give birth to small star clusters. The Carina Nebula, with an overall diameter of more than 200 light- years, is one of the outstanding features of the Southern Hemisphere portion of the Milky Way. The diameter of the Keyhole ring structure shown here is about 7 light-years.
This desktop background wallpaper picture photo image is copyright NASA.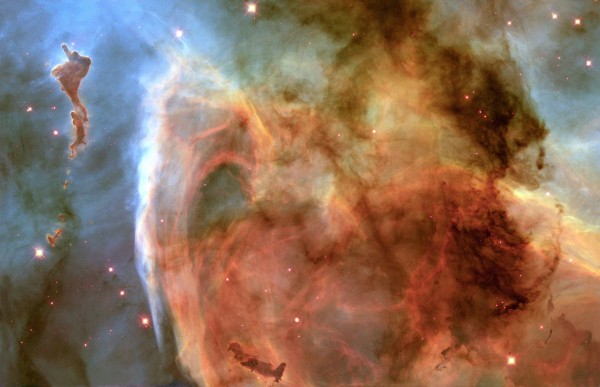 Carina Nebula wallpaper - Click picture for high resolution HD wallpaper
Mac/PC Instructions:
Click preview image above to download or view full size free desktop wallpaper.
Right-click on full size image and select option to set as wallpaper or desktop background/picture.
iPhone/iPad Instructions:
Tap preview image above to display full size wallpaper image for the iPhone/iPad.
Touch and hold your finger on the image until the side-up menu appears and select "Save Image".
Go to Settings and select Wallpaper.
Select either the lock screen or springboard background.
Select "Camera Roll" and find the image you saved in step 2 and tap it.
Move and scale the image as desired, then tap "set" to set iPhone/iPad wallpaper background.
License and Terms of Use
These pictures are NOT stock photos and may not be used as such.
Wallpaper images are licensed for personal use as desktop backgrounds ONLY.
All commercial use of these images and pictures is prohibited.
These desktop backgrounds and wallpapers may NOT be reproduced, retransmitted, or redistributed in whole or in part, in any form or by any means, without express written consent.
Wallpaper may NOT be altered or modified.
The watermark on the picture may NOT be altered, removed or obscured.
Browse More Free Wallpaper Like This Picture: