Wall-E the Robot Wallpaper
&nbsp
Free and Legal Music Downloads! Act Now!
This is Wall-E and a cleaning droid robot from the hit Disney/Pixar movie Wall-E.

The highly acclaimed director of FINDING NEMO and the creative Disney/Pixar storytellers behind CARS and RATATOUILLE transport you to a galaxy not so far away for a new cosmic comedy adventure about a determined robot named WALL-E. After hundreds of lonely years of doing what he was built for, the curious and lovable WALL-E discovers a new purpose in life when he meets a sleek search robot named EVE. Join them and a hilarious cast of characters on a fantastic journey across the universe. Transport yourself to a fascinating new world with Disney-Pixar's latest adventure, now even more astonishing on DVD and loaded with bonus features, including the exclusive animated short film BURN-E. WALL-E is a film your family will want to enjoy over and over again. This desktop wallpaper picture image is copyright Disney/Pixar.
Download the Wall-E movie soundtrack now!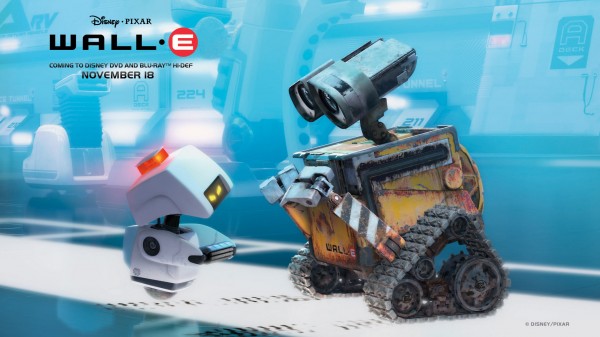 Wall-E the Robot wallpaper - Click picture for high resolution HD wallpaper
Mac/PC Instructions:
Click preview image above to download or view full size free desktop wallpaper.
Right-click on full size image and select option to set as wallpaper or desktop background/picture.
iPhone/iPad Instructions:
Tap preview image above to display full size wallpaper image for the iPhone/iPad.
Touch and hold your finger on the image until the side-up menu appears and select "Save Image".
Go to Settings and select Wallpaper.
Select either the lock screen or springboard background.
Select "Camera Roll" and find the image you saved in step 2 and tap it.
Move and scale the image as desired, then tap "set" to set iPhone/iPad wallpaper background.
License and Terms of Use
These pictures are NOT stock photos and may not be used as such.
Wallpaper images are licensed for personal use as desktop backgrounds ONLY.
All commercial use of these images and pictures is prohibited.
These desktop backgrounds and wallpapers may NOT be reproduced, retransmitted, or redistributed in whole or in part, in any form or by any means, without express written consent.
Wallpaper may NOT be altered or modified.
The watermark on the picture may NOT be altered, removed or obscured.
Browse More Free Wallpaper Like This Picture: