Yogi Bear Movie Poster Wallpaper
&nbsp
Free and Legal Music Downloads! Act Now!
Wallpaper picture of Yogi Bear and Boo Boo enjoying a picnic raid in a movie poster from the live action and CG animated Yogi Bear movie (2010).
See all Yogi Bear movie wallpaper...
Everyone's favorite picnic basket-stealing bear comes to the big screen in "Yogi Bear" from the classic Hanna-Barbera TV animated series. Jellystone Park has been losing business, so greedy Mayor Brown decides to shut it down and sell the land. That means families will no longer be able to experience the natural beauty of the outdoors - and, even worse, Yogi and Boo Boo will be tossed out of the only home they've ever known. Faced with his biggest challenge ever, Yogi must prove that he really is "smarter than the average bear" as he and Boo Boo join forces with their old nemesis Ranger Smith to find a way to save Jellystone Park from closing forever. The Yogi Bear movie is a mixed live action and animation movie with near photorealistic CG animated bears. This Yogi Bear desktop background wallpaper image photo picture is copyright Warner Brothers studio. Wallpaper is compatible with Mac and PC as well as iPhone wallpaper and iPad wallpaper.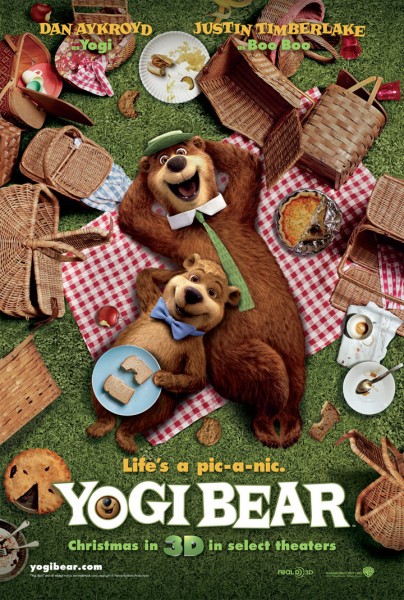 Yogi Bear Movie Poster wallpaper - Click picture for high resolution HD wallpaper
Mac/PC Instructions:
Click preview image above to download or view full size free desktop wallpaper.
Right-click on full size image and select option to set as wallpaper or desktop background/picture.
iPhone/iPad Instructions:
Tap preview image above to display full size wallpaper image for the iPhone/iPad.
Touch and hold your finger on the image until the side-up menu appears and select "Save Image".
Go to Settings and select Wallpaper.
Select either the lock screen or springboard background.
Select "Camera Roll" and find the image you saved in step 2 and tap it.
Move and scale the image as desired, then tap "set" to set iPhone/iPad wallpaper background.
License and Terms of Use
These pictures are NOT stock photos and may not be used as such.
Wallpaper images are licensed for personal use as desktop backgrounds ONLY.
All commercial use of these images and pictures is prohibited.
These desktop backgrounds and wallpapers may NOT be reproduced, retransmitted, or redistributed in whole or in part, in any form or by any means, without express written consent.
Wallpaper may NOT be altered or modified.
The watermark on the picture may NOT be altered, removed or obscured.
Browse More Free Wallpaper Like This Picture: