Walking with Dinosaurs Movie Wallpaper
&nbsp
Free and Legal Music Downloads! Act Now!
Click to see all Walking with Dinosaurs wallpaper -->
Walking with Dinosaurs 3D movie wallpaper. For the first time in movie history, audiences will truly see and feel what it was like when dinosaurs ruled the Earth. WALKING WITH DINOSAURS is the ultimate immersive, big screen adventure for families. Meet dinosaurs more real than you've ever seen as you take off on a thrilling prehistoric adventure, where Patchi, an underdog dinosaur, triumphs against all odds to become a hero for the ages. Curious and optimistic, Patchi is the hero of our movie. Patchi, a Pachyrhinosaurus, is one of our guides to the Late Cretaceous, the prehistoric period during which our story takes place. We fall in love with him as a tiny hatchling and share his adventures and challenges as he grows to adulthood. He is not the biggest or the toughest guy in the herd, but he uses his head and his heart to do the right thing. He survives some very dramatic situations on his way to becoming leader of the herd and to winning the affections of Juniper. He's not an aggressive guy by nature, but he will dig deep within himself and even risk his own safety to save Juniper or Scowler, his brother. He is the classic underdog hero, who finds his inner strength to prove his worth. Walking with Dinosaurs desktop wallpaper image picture photo iphone wallpaper background.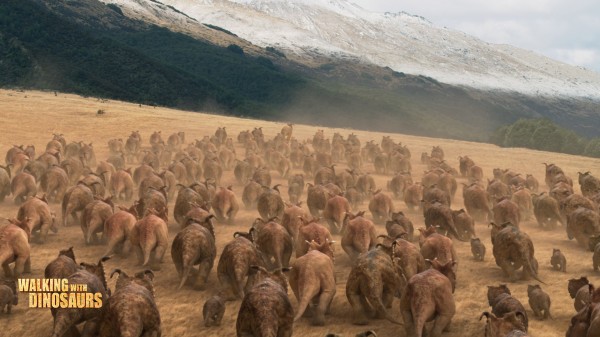 Walking with Dinosaurs Movie wallpaper - Click picture for high resolution HD wallpaper
Mac/PC Instructions:
Click preview image above to download or view full size free desktop wallpaper.
Right-click on full size image and select option to set as wallpaper or desktop background/picture.
iPhone/iPad Instructions:
Tap preview image above to display full size wallpaper image for the iPhone/iPad.
Touch and hold your finger on the image until the side-up menu appears and select "Save Image".
Go to Settings and select Wallpaper.
Select either the lock screen or springboard background.
Select "Camera Roll" and find the image you saved in step 2 and tap it.
Move and scale the image as desired, then tap "set" to set iPhone/iPad wallpaper background.
License and Terms of Use
These pictures are NOT stock photos and may not be used as such.
Wallpaper images are licensed for personal use as desktop backgrounds ONLY.
All commercial use of these images and pictures is prohibited.
These desktop backgrounds and wallpapers may NOT be reproduced, retransmitted, or redistributed in whole or in part, in any form or by any means, without express written consent.
Wallpaper may NOT be altered or modified.
The watermark on the picture may NOT be altered, removed or obscured.
Browse More Free Wallpaper Like This Picture: