Virginia "Pepper" Potts from Iron Man 2 Wallpaper
&nbsp
Free and Legal Music Downloads! Act Now!
VIRGINIA "PEPPER" POTTS played by GWYNETH PALTROW from the movie Iron Man 2. As Tony Stark's executive assistant, Pepper is the driving force behind one of the world's greatest minds. Keeping a super hero organized and efficient is no easy task, but Pepper handles it with ease and grace. Although there is a mutual attraction between her and Tony, Pepper is never one to put romance before professionalism.
A Hollywood legend in the making, GWYNETH PALTROW (Pepper Potts) has defied the odds by remaining one of today's most prolific and celebrated actors in the ever-changing film industry. A testament to her undeniable talent is her role in "Shakespeare in Love," which catapulted her into awards stardom with Best Actress honors at the Golden Globes, the Screen Actors Guild and the Academy Award®. Her career has been studded with both critically acclaimed independent films and studio blockbusters that have made her a fixture for this generation's film audience.
Paltrow was most recently seen in Marvel's "Iron Man," which grossed more than $585 million worldwide at the box office. She also starred in James Gray's romantic drama "Two Lovers," opposite Joaquin Phoenix, and in her brother Jake Paltrow's directorial debut, "The Good Night," as the wife of a former pop star who's been reduced to writing jingles. The film also starred Penelope Cruz and Danny DeVito.
Paltrow's recent film credits include "Proof," the film adaptation of the Pulitzer Prize-winning play, which she also performed at London's Donmar Warehouse Theatre. Her performance as a harassed young woman struggling to care for her eccentric math genius father reunited her with her "Shakespeare in Love" director, John Madden, who also directed the film co-starring Anthony Hopkins, Jake Gyllenhaal and Hope Davis. She received an Olivier Award nomination for Best Actress for her work in the play, as well as a Golden Globe nomination for her work in the film.
Paltrow was also recently seen in "Running with Scissors," an adaptation of Augusten Burroughs' novel directed by Ryan Murphy. She also made a cameo appearance as a Peggy Lee-esque nightclub chanteuse in "Infamous," from "Emma" director Douglas McGrath,
Other film credits include "Sky Captain and the World of Tomorrow," an adventure film co-starring Jude Law and Angelina Jolie; "Sylvia," the Focus Features film that tells the story of the relationship between Sylvia Plath and Ted Hughes; Neil LaBute's "Possession," a romance also starring Aaron Eckhart; a cameo appearance in the New Line comedy "Austin Powers 3"; and the critically acclaimed Wes Anderson film "The Royal Tenenbaums," in which she starred opposite Gene Hackman, Anjelica Huston and Ben Stiller. She also starred in the Peter and Bobby Farrelly-directed "Shallow Hal" co-starring Jack Black and Jason Alexander.
Additional credits include roles in Jennifer Jason Leigh and Alan Cumming's "The Anniversary Party" opposite Cumming, Leigh, John C. Reilly, Kevin Kline and Parker Posey, as well as "Duets," a film directed by her father, Bruce Paltrow, and Miramax Films' "Bounce" opposite Ben Affleck. Paltrow has appeared in director Anthony Minghella's "The Talented Mr. Ripley" opposite Matt Damon, Jude Law and Cate Blanchett, and the hit film "A Perfect Murder" opposite Michael Douglas and Viggo Mortensen, in addition to the critically acclaimed and international box office hit film "Sliding Doors."
Her other film credits include "Emma"; "Great Expectations" opposite Ethan Hawke; "The Pallbearer" opposite David Schwimmer; "Se7en"; "A View from the Top"; "Moonlight and Valentino"; "Jefferson in Paris"; "Mrs. Parker and the Vicious Circle"; "Malice"; "Hook"; and "Shout."
Paltrow's first role was her remarkable performance in the critically acclaimed "Flesh and Bone" opposite Meg Ryan and Dennis Quaid. She has also received rave reviews in a sell-out run of the Williamstown Theatre Festival's production of "As You Like It," in the role of Rosalind.
Paltrow recently made her directorial debut, co-writing and co-directing (with her friend Mary Wigmore) a short film, "Dealbreaker."
In 2005, Paltrow entered into a multi-year contract with Estée Lauder. Since then, she has appeared in global print and television advertising campaigns for Pleasures and Pure White Linen fragrances. In 2006, Estée Lauder introduced New Pleasures by Gwyneth Paltrow, a limited edition collection, inspired by her favorite pampering rituals. In future seasons, Paltrow will appear in additional Estée Lauder fragrance, makeup and skincare advertising campaigns.
Born in Los Angeles, where she spent the first eleven years of her life, Paltrow comes from a very close-knit family deeply entrenched in the entertainment industry. Her late father, Bruce Paltrow, was a highly successful producer ("St. Elsewhere," "The White Shadow") and her mother is the award-winning actress Blythe Danner. While Paltrow and her younger brother, Jake, lived in Los Angeles, she attended St. Augustine by the Sea (now known as Crossroads).
Subsequently, her family moved to New York and she graduated from the Spence School before enrolling in the University of California at Santa Barbara to major in Art History. She quickly learned that college life was not something she felt committed to and withdrew from school despite her father's strong recommendation to remain. It wasn't until he caught her moving performance in the Williamstown Theatre Festival production of "Picnic," starring opposite her mother and Tony Goldwyn, that he lent his support in her pursuit of an acting career.
Paltrow currently resides in New York City and London.
Click to see all Iron Man wallpaper
Get Iron Man 2 videos, toys and games
Paramount Pictures and Marvel Entertainment present the highly anticipated sequel to the blockbuster film based on the legendary Marvel Super Hero "Iron Man," reuniting director Jon Favreau and Oscar® nominee Robert Downey Jr. In "Iron Man 2," the world is aware that billionaire inventor Tony Stark (Robert Downey Jr.) is the armored Super Hero Iron Man. Under pressure from the government, the press and the public to share his technology with the military, Tony is unwilling to divulge the secrets behind the Iron Man armor because he fears the information will slip into the wrong hands. With Pepper Potts (Gwyneth Paltrow), and James "Rhodey" Rhodes (Don Cheadle) at his side, Tony forges new alliances and confronts powerful new forces. This Iron Man desktop background wallpaper photo image iPhone wallpaper iPad background is copyright by Paramount Pictures and Marvel Entertainment.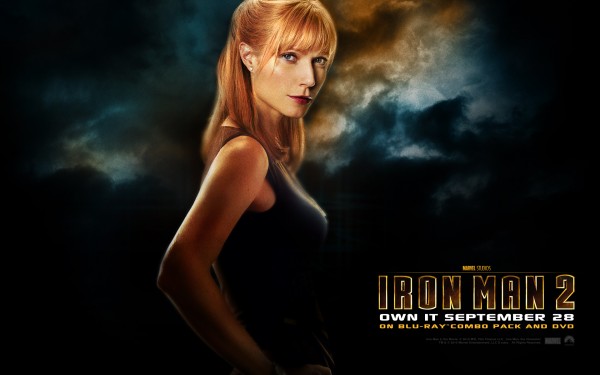 Virginia "Pepper" Potts from Iron Man 2 wallpaper - Click picture for high resolution HD wallpaper
Mac/PC Instructions:
Click preview image above to download or view full size free desktop wallpaper.
Right-click on full size image and select option to set as wallpaper or desktop background/picture.
iPhone/iPad Instructions:
Tap preview image above to display full size wallpaper image for the iPhone/iPad.
Touch and hold your finger on the image until the side-up menu appears and select "Save Image".
Go to Settings and select Wallpaper.
Select either the lock screen or springboard background.
Select "Camera Roll" and find the image you saved in step 2 and tap it.
Move and scale the image as desired, then tap "set" to set iPhone/iPad wallpaper background.
License and Terms of Use
These pictures are NOT stock photos and may not be used as such.
Wallpaper images are licensed for personal use as desktop backgrounds ONLY.
All commercial use of these images and pictures is prohibited.
These desktop backgrounds and wallpapers may NOT be reproduced, retransmitted, or redistributed in whole or in part, in any form or by any means, without express written consent.
Wallpaper may NOT be altered or modified.
The watermark on the picture may NOT be altered, removed or obscured.
Browse More Free Wallpaper Like This Picture: