Viperwolf Attack from Avatar Wallpaper
&nbsp
Free and Legal Music Downloads! Act Now!
The Viperwolf (Na'vi name: Nantang) has six legs, a lean, powerful torso, and has evolved to travel swiftly over long distances in search of prey.  The creature appears in the James Cameron movie Avatar.
Very few predators (the Mountain Banshee among them) will attempt an attack on a viperwolf, who nearly always move in packs that can mass into a highly cooperative hunting party within seconds.
Its paws include opposable thumbs, allowing it to climb trees as well as stalk from the ground, thereby creating a three-dimensional hunting field. When stalking prey, the viperwolf is able to reduce its profile by hugging the ground or clinging to tree limbs. The Viperwolf's dark skin also provides camouflage. Thus hidden, a viperwolf can often approach within a few meters of unsuspecting prey, and then attack with frightening efficiency. (One xenobiologist describes this graceful, ominous movement as "liquid darkness.")  This image is copyright 20th Century Fox.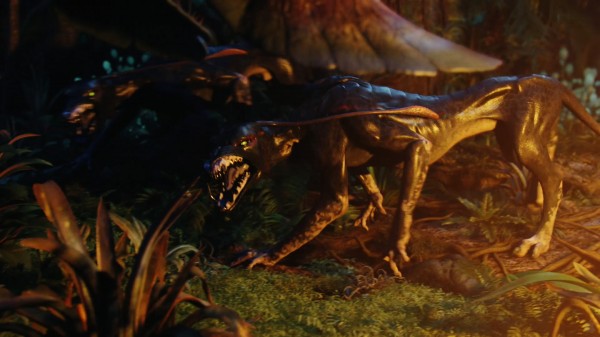 Viperwolf Attack from Avatar wallpaper - Click picture for high resolution HD wallpaper
Mac/PC Instructions:
Click preview image above to download or view full size free desktop wallpaper.
Right-click on full size image and select option to set as wallpaper or desktop background/picture.
iPhone/iPad Instructions:
Tap preview image above to display full size wallpaper image for the iPhone/iPad.
Touch and hold your finger on the image until the side-up menu appears and select "Save Image".
Go to Settings and select Wallpaper.
Select either the lock screen or springboard background.
Select "Camera Roll" and find the image you saved in step 2 and tap it.
Move and scale the image as desired, then tap "set" to set iPhone/iPad wallpaper background.
License and Terms of Use
These pictures are NOT stock photos and may not be used as such.
Wallpaper images are licensed for personal use as desktop backgrounds ONLY.
All commercial use of these images and pictures is prohibited.
These desktop backgrounds and wallpapers may NOT be reproduced, retransmitted, or redistributed in whole or in part, in any form or by any means, without express written consent.
Wallpaper may NOT be altered or modified.
The watermark on the picture may NOT be altered, removed or obscured.
Browse More Free Wallpaper Like This Picture: