Sucker Punch Action Movie Wallpaper
&nbsp
Free and Legal Music Downloads! Act Now!
Wallpaper picture from the fantasy sci-fi action adventure movie Sucker Punch from Warner Brothers Studios wallpaper collection.
See all Sucker Punch wallpaper...
Download the Sucker Punch Original Motion Picture Soundtrack now!
"Sucker Punch" is an epic action fantasy that takes us into the vivid imagination of a young girl whose dream world provides the ultimate escape from her darker reality. Unrestrained by the boundaries of time and place, she is free to go where her mind takes her, and her incredible adventures blur the lines between what's real and what is imaginary. She has been locked away against her will, but Babydoll (Emily Browning) has not lost her will to survive. Determined to fight for her freedom, she urges four other young girls-the outspoken Rocket (Jena Malone), the street-smart Blondie (Vanessa Hudgens), the fiercely loyal Amber (Jamie Chung) and the reluctant Sweet Pea (Abbie Cornish)-to band together and try to escape their terrible fate at the hands of their captors, Blue (Oscar Isaac), Madam Gorski (Carla Gugino) and the High Roller (Jon Hamm). Led by Babydoll, the girls engage in fantastical warfare against everything from samurais to serpents, with a virtual arsenal at their disposal. Together, they must decide what they are willing to sacrifice in order to stay alive. But with the help of a Wise Man (Scott Glenn), their unbelievable journey-if they succeed-will set them free. This Sucker Punch desktop background wallpaper picture image is copyright Warner Brothers Studios and is compatible with Mac and PC/Windows as well as iPhone and iPad wallpaper.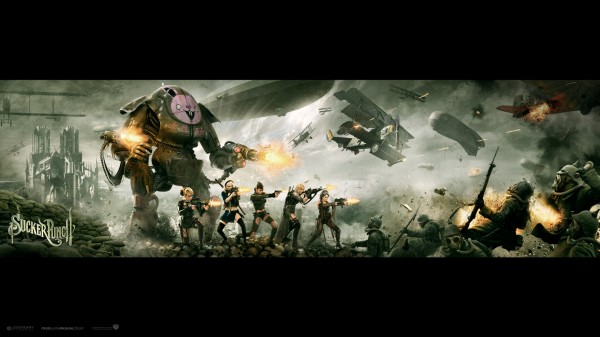 Sucker Punch Action Movie wallpaper - Click picture for high resolution HD wallpaper
Mac/PC Instructions:
Click preview image above to download or view full size free desktop wallpaper.
Right-click on full size image and select option to set as wallpaper or desktop background/picture.
iPhone/iPad Instructions:
Tap preview image above to display full size wallpaper image for the iPhone/iPad.
Touch and hold your finger on the image until the side-up menu appears and select "Save Image".
Go to Settings and select Wallpaper.
Select either the lock screen or springboard background.
Select "Camera Roll" and find the image you saved in step 2 and tap it.
Move and scale the image as desired, then tap "set" to set iPhone/iPad wallpaper background.
License and Terms of Use
These pictures are NOT stock photos and may not be used as such.
Wallpaper images are licensed for personal use as desktop backgrounds ONLY.
All commercial use of these images and pictures is prohibited.
These desktop backgrounds and wallpapers may NOT be reproduced, retransmitted, or redistributed in whole or in part, in any form or by any means, without express written consent.
Wallpaper may NOT be altered or modified.
The watermark on the picture may NOT be altered, removed or obscured.
Browse More Free Wallpaper Like This Picture: