Peas-in-a-Pod from Toy Story 3 Wallpaper
&nbsp
Free and Legal Music Downloads! Act Now!
This is the Peas in a Pod plush toy from the hit movie "Toy Story 3" by Disney and Pixar. Peas-in-a-Pod will quickly become a parent's favorite on-the-go toy. The soft, plush pod secures the happy peas inside with a durable metal zipper, making it perfect for the car or stroller. The Peas-in-a-Pod plush toy also develops fine motor skills by catering to a child's natural grab instinct. Pulling the three peas out of the pod will provide repeated enjoyment for infants and toddlers, and soon they'll learn to put them back in! Machine washable. Not for human consumption.
"Toy Story 3" welcomes Woody (voice of Tom Hanks), Buzz (voice of Tim Allen) and the whole gang back to the big screen as Andy prepares to depart for college and his loyal toys find themselves in... day care! These untamed tots with their sticky little fingers do not play nice, so it's all for one and one for all as plans for the great escape get underway. A few new faces - some plastic, some plush - join the adventure, including iconic swinging bachelor and Barbie's counterpart Ken (voice of Michael Keaton), a thespian hedgehog named Mr. Pricklepants (voice of Timothy Dalton) and a pink, strawberry-scented teddy bear called Lots-o'-Huggin' Bear (voice Ned Beatty). Directed by Lee Unkrich (co-director of "Toy Story 2" and "Finding Nemo"), produced by Pixar veteran Darla K. Anderson ("Cars," "Monsters, Inc.") and written by Academy Award-winning screenwriter Michael Arndt ("Little Miss Sunshine"). "Toy Story 3" is a comical new adventure in Disney Digitial 3D and IMAX 3D. This Toy Story desktop background wallpaper image for desktop and iPhone wallpaper iPad background wallpaper photo is copyright Disney/Pixar.
Download the Toy Story 3 Movie Soundtrack now!
Get Toy Story videos, toys, games and more...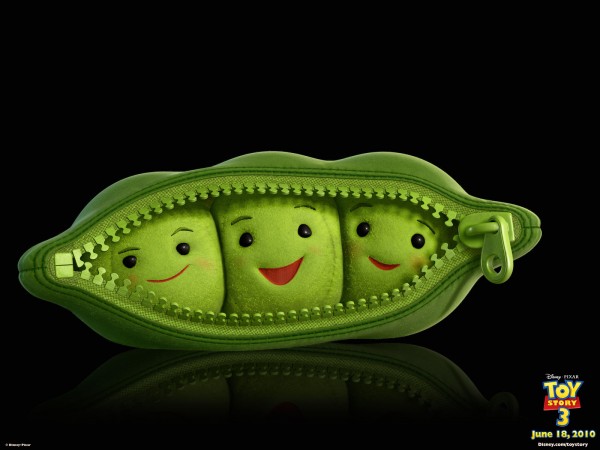 Peas-in-a-Pod from Toy Story 3 wallpaper - Click picture for high resolution HD wallpaper
Mac/PC Instructions:
Click preview image above to download or view full size free desktop wallpaper.
Right-click on full size image and select option to set as wallpaper or desktop background/picture.
iPhone/iPad Instructions:
Tap preview image above to display full size wallpaper image for the iPhone/iPad.
Touch and hold your finger on the image until the side-up menu appears and select "Save Image".
Go to Settings and select Wallpaper.
Select either the lock screen or springboard background.
Select "Camera Roll" and find the image you saved in step 2 and tap it.
Move and scale the image as desired, then tap "set" to set iPhone/iPad wallpaper background.
License and Terms of Use
These pictures are NOT stock photos and may not be used as such.
Wallpaper images are licensed for personal use as desktop backgrounds ONLY.
All commercial use of these images and pictures is prohibited.
These desktop backgrounds and wallpapers may NOT be reproduced, retransmitted, or redistributed in whole or in part, in any form or by any means, without express written consent.
Wallpaper may NOT be altered or modified.
The watermark on the picture may NOT be altered, removed or obscured.
Browse More Free Wallpaper Like This Picture: