Pandora from Space from Avatar Wallpaper
&nbsp
Free and Legal Music Downloads! Act Now!
Pandora is a moon of the gas giant Polyphemus (both are figures in Greek mythology), which orbits Alpha Centauri A from the James Cameron movie Avatar.
Discovered by the first interstellar expedition in 2129, Pandora has been the single most interesting thing to happen to the human race in hundreds of years. The news services love to run clips of the wild scenery on Pandora, and its bizarre flora and fauna.
Pandora, despite being almost as large as Earth, is only a moon of the gas giant Polyphemus, which has thirteen other moons. However, due to its smaller size, its gravity is 20% less than Earth's. Due to Pandora's lower gravity, most creatures on Pandora are hexapods, six-legged. Creatures roam the air and forest canopy below, similar to Earth's animals, but on a scale several times larger. Pandora's wildlife also have bioluminescent qualities. Depending on the position of the various moons, Pandora can have two or even three moons in its sky at once. Pandora and the other moons cast large black shadows on Polyphemus.
Pandora appears like a lush paradise by Earth standards during the day, though at night virtually all life on the planet exhibits bioluminescent qualities in various shades of blue, purple and green, explaining the Na'vi's blue skin color, which is most likely a better camouflage at night on Pandora.  This image is copyright 20th Century Fox.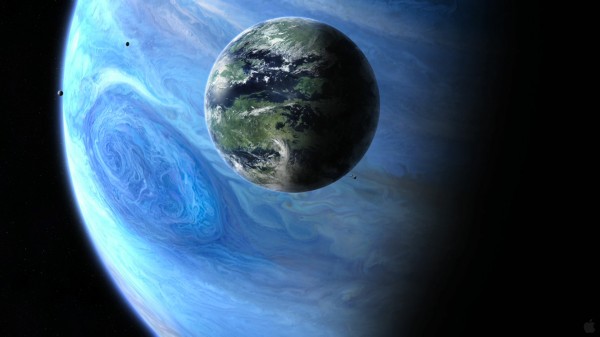 Pandora from Space from Avatar wallpaper - Click picture for high resolution HD wallpaper
Mac/PC Instructions:
Click preview image above to download or view full size free desktop wallpaper.
Right-click on full size image and select option to set as wallpaper or desktop background/picture.
iPhone/iPad Instructions:
Tap preview image above to display full size wallpaper image for the iPhone/iPad.
Touch and hold your finger on the image until the side-up menu appears and select "Save Image".
Go to Settings and select Wallpaper.
Select either the lock screen or springboard background.
Select "Camera Roll" and find the image you saved in step 2 and tap it.
Move and scale the image as desired, then tap "set" to set iPhone/iPad wallpaper background.
License and Terms of Use
These pictures are NOT stock photos and may not be used as such.
Wallpaper images are licensed for personal use as desktop backgrounds ONLY.
All commercial use of these images and pictures is prohibited.
These desktop backgrounds and wallpapers may NOT be reproduced, retransmitted, or redistributed in whole or in part, in any form or by any means, without express written consent.
Wallpaper may NOT be altered or modified.
The watermark on the picture may NOT be altered, removed or obscured.
Browse More Free Wallpaper Like This Picture: