Mumble from Happy Feet 2 Movie Wallpaper
&nbsp
Free and Legal Music Downloads! Act Now!
Wallpaper picture of Mumble the penguin from the CG animated movie "Happy Feet Two" wallpaper.
See all Happy Feet wallpaper -->
Download the Happy Feet Two: Original Motion Picture Soundtrack now!
The sequel to the Academy Award(R) winning animated smash hit, "Happy Feet Two" returns in 2011 and brings audiences back to the magnificent landscape of Antarctica in superb 3D. Mumble, The Master of Tap and probably the world's first dancing penguin, has a problem because his tiny son Erik is choreo-phobic. Reluctant to dance, Erik runs away and encounters The Mighty Sven - a penguin who can fly!! Mumble has no hope of competing with this charismatic new role model. But things get worse when the world is shaken by powerful forces. Erik learns of his father's 'guts and grit' as Mumble brings together the penguin nations and all manner of fabulous creatures - from tiny Krill to giant Elephant Seals - to put things right. Happy Feet Two features the voice talents of Elijah Wood, Robin Williams, Hank Azaria, Alecia Moore (P!nk), Brad Pitt, Matt Damon, Sofia Vergara, Hugo Weaving, Richard Carter, Common, Magda Szubanski, and Anthony LaPagila. This Happy Feet Two desktop background wallpaper picture is copyright by Warner Brothers and is for use as desktop wallpaper for Mac and PC systems as well as for iPhone, iPad, Android and other smart phones and devices.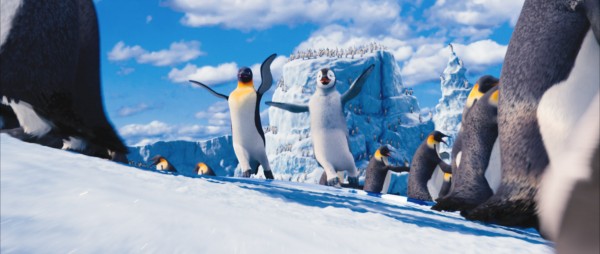 Mumble from Happy Feet 2 Movie wallpaper - Click picture for high resolution HD wallpaper
Mac/PC Instructions:
Click preview image above to download or view full size free desktop wallpaper.
Right-click on full size image and select option to set as wallpaper or desktop background/picture.
iPhone/iPad Instructions:
Tap preview image above to display full size wallpaper image for the iPhone/iPad.
Touch and hold your finger on the image until the side-up menu appears and select "Save Image".
Go to Settings and select Wallpaper.
Select either the lock screen or springboard background.
Select "Camera Roll" and find the image you saved in step 2 and tap it.
Move and scale the image as desired, then tap "set" to set iPhone/iPad wallpaper background.
License and Terms of Use
These pictures are NOT stock photos and may not be used as such.
Wallpaper images are licensed for personal use as desktop backgrounds ONLY.
All commercial use of these images and pictures is prohibited.
These desktop backgrounds and wallpapers may NOT be reproduced, retransmitted, or redistributed in whole or in part, in any form or by any means, without express written consent.
Wallpaper may NOT be altered or modified.
The watermark on the picture may NOT be altered, removed or obscured.
Browse More Free Wallpaper Like This Picture: