Metalbeak from Legend of the Guardians Wallpaper
&nbsp
Free and Legal Music Downloads! Act Now!
Wallpaper picture of Metalbeak the destroyer Owl.
From the CG animated feature movie "Legend of the Guardians: The Owls of Ga'Hoole". This wallpaper picture photo image desktop background is copyright Warner Brothers Pictures. Owl bird feathers plumage animation wallpaer movie background. This background wallpaper image can be used with desktop PC and Mac computers as well as the iPhone and iPad.
See all Legend of the Guardians desktop wallpaper
Download the Legends Of The Guardians movie soundtrack now!
Acclaimed filmmaker Zack Snyder makes his animation debut with the fantasy family adventure "Legend of the Guardians: The Owls of Ga'Hoole" based on the beloved Guardians of Ga'Hoole books by Kathryn Lasky. The film follows Soren, a young owl enthralled by his father's epic stories of the Guardians of Ga' Hoole, a mythic band of winged warriors who had fought a great battle to save all of owlkind from the evil Pure Ones.
While Soren dreams of someday joining his heroes, his older brother, Kludd, scoffs at the notion, and yearns to hunt, fly and steal his father's favor from his younger sibling. But Kludd's jealousy has terrible consequences— causing both owlets to fall from their treetop home and right into the talons of the Pure Ones. Now it is up to Soren to make a daring escape with the help of other brave young owls. Together they soar across the sea and through the mist to find the Great Tree, home of the legendary Guardians—Soren's only hope of defeating the Pure Ones and saving the owl kingdoms.
The film features the voices of Emily Barclay, Abbie Cornish, Ryan Kwanten, Anthony LaPaglia, Miriam Margolyes, Helen Mirren, Sam Neill, Geoffrey Rush, Jim Sturgess, Hugo Weaving, Richard Roxburgh and David Wenham.
Snyder is directing "Legend of the Guardians: The Owls of Ga'Hoole" from a screenplay by John Orloff and Emil Stern, based on the Guardians of Ga'Hoole novels by Kathryn Lasky. The film is being produced by Zareh Nalbandian, with Donald De Line, Deborah Snyder, Lionel Wigram, Chris DeFaria, Kathryn Lasky and Bruce Berman serving as executive producers.
Warner Bros. Pictures presents, in association with Village Roadshow Pictures, a Village Roadshow Pictures Production, an Animal Logic Production, "Legend of the Guardians: The Owls of Ga'Hoole."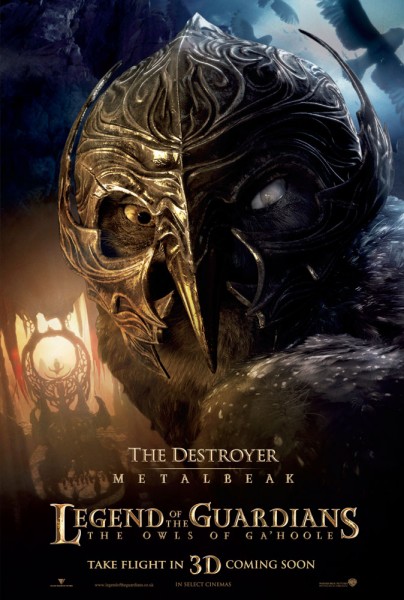 Metalbeak from Legend of the Guardians wallpaper - Click picture for high resolution HD wallpaper
Mac/PC Instructions:
Click preview image above to download or view full size free desktop wallpaper.
Right-click on full size image and select option to set as wallpaper or desktop background/picture.
iPhone/iPad Instructions:
Tap preview image above to display full size wallpaper image for the iPhone/iPad.
Touch and hold your finger on the image until the side-up menu appears and select "Save Image".
Go to Settings and select Wallpaper.
Select either the lock screen or springboard background.
Select "Camera Roll" and find the image you saved in step 2 and tap it.
Move and scale the image as desired, then tap "set" to set iPhone/iPad wallpaper background.
License and Terms of Use
These pictures are NOT stock photos and may not be used as such.
Wallpaper images are licensed for personal use as desktop backgrounds ONLY.
All commercial use of these images and pictures is prohibited.
These desktop backgrounds and wallpapers may NOT be reproduced, retransmitted, or redistributed in whole or in part, in any form or by any means, without express written consent.
Wallpaper may NOT be altered or modified.
The watermark on the picture may NOT be altered, removed or obscured.
Browse More Free Wallpaper Like This Picture: