Lord Voldemort from Harry Potter and the Deathly Hallows Movie Wallpaper
&nbsp
Free and Legal Music Downloads! Act Now!
Wallpaper picture of the evil Lord Voldemort from Harry Potter and the Deathly Hallows desktop wallpaper and iPhone/iPad wallpaper.
See all Harry Potter wallpaper
Download the Harry Potter And The Deathly Hallows soundtrack now!
Get Harry Potter videos, toys, games and more ...
Tom Marvolo Riddle Jr., later known as Lord Voldemort, was the most powerful Dark Wizard of all time. He was a half-blood wizard, son of Tom Riddle Sr., a wealthy muggle who abandoned his wife, and Merope Gaunt, who died shortly after childbirth. He was born and raised in a muggle orphanage, but eventually attended Hogwarts School of Witchcraft and Wizardry and was sorted into Slytherin house. An exceedingly handsome, polite and popular orphan, Tom Riddle was once thought to be the most talented pupil to ever attend Hogwarts. To the school at large he presented the respectable face of a student like any other. In reality, however, Riddle was cruel, sadistic, manipulative and power hungry. Having achieved outstanding grades in every examination he took, Riddle left Hogwarts and went on to a brief employment at Borgin and Burkes, before disappearing from public view completely.
Having embraced the seductive Dark Arts he encountered in his travels, the former Tom Riddle, now known exclusively as Lord Voldemort, raised an enormous army comprised of followers he recruited both at school and afterward, as well as many dark creatures. This army, known as the Death Eaters began a campaign of terror and violence never before seen in Britain. After hearing half of a prophecy referring to a single being with the power to destroy him, Voldemort set off to kill Harry Potter, to whom he believed the prophecy referred. After murdering Harry's parents, Lily and James, Voldemort turned his wand upon the boy. However, due to Lily Potter's loving sacrifice, Voldemort's curse rebounded upon him and his body was destroyed. Stripped of his power, Voldemort fled to a far flung forest in Albania, to await the day when he could regain a body and return to power. After thirteen years of waiting that day would finally arrive, and with the use of Potter's own blood, the Dark Lord rose again.
Harry Potter and the Deathly Hallows wallpaper, the seventh and final adventure in the Harry Potter film series, is a much-anticipated motion picture event to be told in two full-length parts. Part 1 of Harry Potter 7 begins as Harry, Ron and Hermione set out on their perilous mission to track down and destroy the secret to Voldemort's immortality and destruction--the Horcruxes. On their own, without the guidance of their professors or the protection of Professor Dumbledore, the three friends must now rely on one another more than ever. But there are Dark Forces in their midst that threaten to tear them apart. Meanwhile, the wizarding world has become a dangerous place for all enemies of the Dark Lord. The long-feared war has begun and Voldemort's Death Eaters seize control of the Ministry of Magic and even Hogwarts, terrorizing and arresting anyone who might oppose them. But the one prize they still seek is the one most valuable to Voldemort: Harry Potter. The Chosen One has become the hunted one as the Death Eaters search for Harry with orders to bring him to Voldemort...alive. Harry's only hope is to find the Horcruxes before Voldemort finds him. But as he searches for clues, he uncovers an old and almost forgotten tale--the legend of the Deathly Hallows. And if the legend turns out to be true, it could give Voldemort the ultimate power he seeks. Little does Harry know that his future has already been decided by his past when, on that fateful day, he became "the Boy Who Lived." No longer just a boy, Harry Potter is drawing ever closer to the task for which he has been preparing since the day he first stepped into Hogwarts: the ultimate battle with Voldemort. This Harry Potter 7 and the Deathly Hallows wallpaper picture image photo iPhone and iPad background and desktop wallpaper from Harry Potter is copyright Warner Brothers.
Click to watch the Harry Potter movies on your computer now!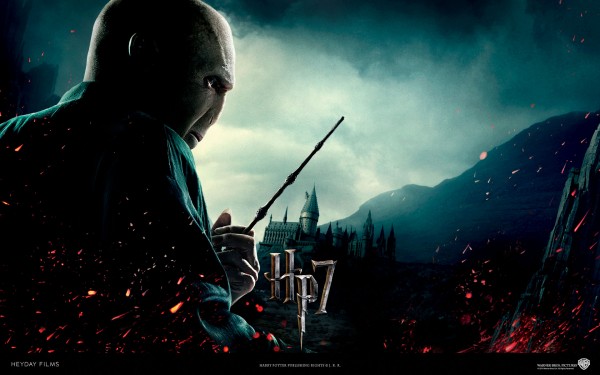 Lord Voldemort from Harry Potter and the Deathly Hallows Movie wallpaper - Click picture for high resolution HD wallpaper
Mac/PC Instructions:
Click preview image above to download or view full size free desktop wallpaper.
Right-click on full size image and select option to set as wallpaper or desktop background/picture.
iPhone/iPad Instructions:
Tap preview image above to display full size wallpaper image for the iPhone/iPad.
Touch and hold your finger on the image until the side-up menu appears and select "Save Image".
Go to Settings and select Wallpaper.
Select either the lock screen or springboard background.
Select "Camera Roll" and find the image you saved in step 2 and tap it.
Move and scale the image as desired, then tap "set" to set iPhone/iPad wallpaper background.
License and Terms of Use
These pictures are NOT stock photos and may not be used as such.
Wallpaper images are licensed for personal use as desktop backgrounds ONLY.
All commercial use of these images and pictures is prohibited.
These desktop backgrounds and wallpapers may NOT be reproduced, retransmitted, or redistributed in whole or in part, in any form or by any means, without express written consent.
Wallpaper may NOT be altered or modified.
The watermark on the picture may NOT be altered, removed or obscured.
Browse More Free Wallpaper Like This Picture: