Lord Shen from Kung Fu Panda 2 Movie Wallpaper
&nbsp
Free and Legal Music Downloads! Act Now!
Wallpaper picture of Lord Shen the villain in the CG animated Kung Fu Panda 2 movie from Dreamworks.
See all Kung Fu Panda movie wallpaper...
Download the Kung Fu Panda soundtrack now!
Lord Shen is hyper intelligent, supremely lethal, and burns with ambition. It's a combustible combination. His past has forged in him the notion that he's been wronged and that the world owes him something. He intends to do everything in his power to take it, which includes inventing a weapon unlike anything the world has ever seen. He's intent on wiping out kung fu and taking over China. That puts him on a collision course with Po and The Five. Though Shen is an accomplished martial artist, he relies more on weapons and cunning. He excels in sword combat and hides an armory of blades in his robes, which he can unleash with lighting speed. In battle, his beautiful tail becomes another limb, which he can shape and use to attack or defend. His fighting style is both graceful and lethal.
Enthusiastic, big and a little clumsy, Po works in his family's noodle shop while daydreaming about becoming a Kung Fu master. His dreams soon become reality when he is unexpectedly chosen to join the world of Kung Fu and study alongside his idols-the legendary fighters Tigress, Crane, Mantis, Viper and Monkey-under the leadership of their guru, Master Shifu. But before they know it, the vengeful and treacherous snow leopard Tai Lung is headed their way, and it's up to Po to defend everyone from the oncoming threat. Can he turn his dreams of becoming a Kung Fu hero into reality? Po puts his heart and his girth into the task, and ultimately finds that his greatest weaknesses turn out to be his greatest strengths. In KUNG FU PANDA 2, Po is now living his dream as The Dragon Warrior, protecting the Valley of Peace alongside his friends and fellow kung fu masters, The Furious Five. But Po's new life of awesomeness is threatened by the emergence of a formidable villain, who plans to use a secret, unstoppable weapon to conquer China and destroy kung fu. He must look to his past and uncover the secrets of his mysterious origins; only then will Po be able to unlock the strength he needs to succeed. This Kung Fu Panda HD wallpaper picture image photo desktop background is copyright Dreamworks and is compatible with Mac/PC, iPhone wallpaper, iPad background and other smart phone wallpaper.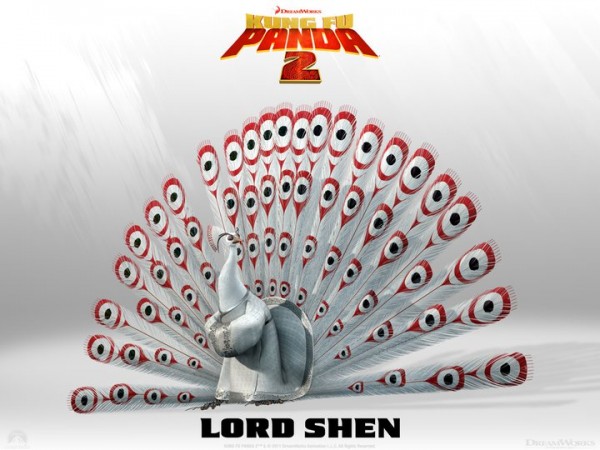 Lord Shen from Kung Fu Panda 2 Movie wallpaper - Click picture for high resolution HD wallpaper
Mac/PC Instructions:
Click preview image above to download or view full size free desktop wallpaper.
Right-click on full size image and select option to set as wallpaper or desktop background/picture.
iPhone/iPad Instructions:
Tap preview image above to display full size wallpaper image for the iPhone/iPad.
Touch and hold your finger on the image until the side-up menu appears and select "Save Image".
Go to Settings and select Wallpaper.
Select either the lock screen or springboard background.
Select "Camera Roll" and find the image you saved in step 2 and tap it.
Move and scale the image as desired, then tap "set" to set iPhone/iPad wallpaper background.
License and Terms of Use
These pictures are NOT stock photos and may not be used as such.
Wallpaper images are licensed for personal use as desktop backgrounds ONLY.
All commercial use of these images and pictures is prohibited.
These desktop backgrounds and wallpapers may NOT be reproduced, retransmitted, or redistributed in whole or in part, in any form or by any means, without express written consent.
Wallpaper may NOT be altered or modified.
The watermark on the picture may NOT be altered, removed or obscured.
Browse More Free Wallpaper Like This Picture: