Lian Chu and Hector from Dragon Hunters Movie Wallpaper
&nbsp
Free and Legal Music Downloads! Act Now!
Wallpaper picture of dragon hunting hero Lian Chu and his sidekick pet dragon Hector from the CG animated movie Dragon Hunters.
See all Dragon Hunter movie wallpaper...
This wallpaper background picture is from the movie Dragon Hunters. Get ready to hold your breath as you get whisked along an adventure to save the magical, floating, medieval, and breathtakingly beautiful world from an evil dragon. This impeccable animation tells the classic adventure of a band of eclectic characters focused on a single mission to save the world. Zoe dreams of joining valiant knights on exciting adventures, but because she is a girl the king has other plans in mind for her. A gentle giant, Lian-Chu, and his opportunistic friend, Gwizdo, call themselves Dragon Hunters, but seem to have an issue with getting paid. When Zoe sneaks out and accidentally meets the Dragon Hunters, she decides that they will be the ones to slay the dragon, and she also decides to join them. Not all dragons are evil in this film; a lovable small blue dragon namded Hector serves as the sidekick creature of the group. This empowering film shows that girls can be courageous and adventurous, at times even more than male adults. The creative and striking animation provides constant eye-candy, and perfect timing dishes out steady laughs. The animators provide a slew of new and interesting creatures to encounter and outsmart, as well as some interesting new conceptions of physics. This desktop background wallpaper image photo picture is copyright Futurikon and can be used with Mac or Windows PC as well as on the iPhone or iPad as background wallpaper.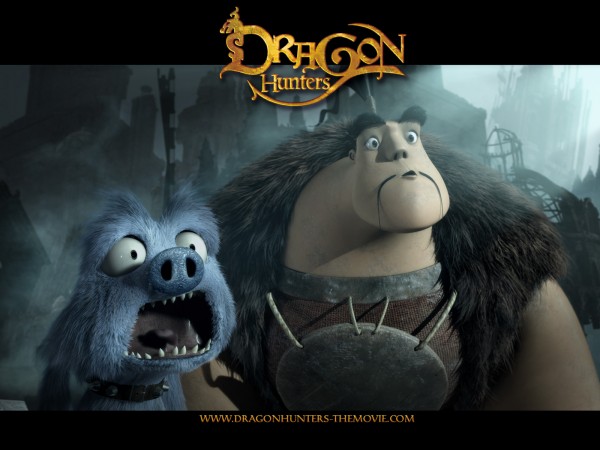 Lian Chu and Hector from Dragon Hunters Movie wallpaper - Click picture for high resolution HD wallpaper
Mac/PC Instructions:
Click preview image above to download or view full size free desktop wallpaper.
Right-click on full size image and select option to set as wallpaper or desktop background/picture.
iPhone/iPad Instructions:
Tap preview image above to display full size wallpaper image for the iPhone/iPad.
Touch and hold your finger on the image until the side-up menu appears and select "Save Image".
Go to Settings and select Wallpaper.
Select either the lock screen or springboard background.
Select "Camera Roll" and find the image you saved in step 2 and tap it.
Move and scale the image as desired, then tap "set" to set iPhone/iPad wallpaper background.
License and Terms of Use
These pictures are NOT stock photos and may not be used as such.
Wallpaper images are licensed for personal use as desktop backgrounds ONLY.
All commercial use of these images and pictures is prohibited.
These desktop backgrounds and wallpapers may NOT be reproduced, retransmitted, or redistributed in whole or in part, in any form or by any means, without express written consent.
Wallpaper may NOT be altered or modified.
The watermark on the picture may NOT be altered, removed or obscured.
Browse More Free Wallpaper Like This Picture: