Jacob from Twilight Eclipse Wallpaper
&nbsp
Free and Legal Music Downloads! Act Now!
Jacob the werewolf from the Twilight Saga: Eclipse movie.
Click to see all Twilight Saga wallpaper...
Get Twilight Saga videos, books and more...
Jacob (aka "Jake") played by Taylor Lautner is impulsive, impatient and strong-willed. He's a member of the Quileute tribe, and when he hits puberty, he discovers he has inherited the genes that turn him into an enormous, powerful werewolf - part of a pack that protects the tribe from vampires. Unlike humans, werewolves have incredible healing abilities, high body temperatures and do not age quickly. As a pack they use telepathy to communicate thus are able to hear each other's thoughts.
Jacob is in love with Bella and when he shares this with her, he learns she does not feel the same. Convinced that Bella is just not yet aware of her love for him, Jacob determines to prove to Bella that she really does love him. Though he is willing to be patient, he knows he has limited time before she chooses to change into a vampire to be with Edward forever. At one point he forces a kiss upon Bella which she reciprocates with a punch in the jaw. Though Jacob hates Edward for having once left Bella's heart broken, when he learns Bella's life is threatened by Victoria and her army, Jacob and his pack agree to work together with Edward and the Cullens to battle the army of newborn vampires.
In THE TWILIGHT SAGA: ECLIPSE, Bella once again finds herself surrounded by danger as Seattle is ravaged by a string of mysterious killings and a malicious vampire continues her quest for revenge. In the midst of it all, she is forced to choose between Edward and Jacob knowing that her decision has the potential to ignite the struggle between vampire and werewolf. With her graduation quickly approaching, Bella is confronted with the most important decision of her life. This desktop background wallpaper image photo iPhone wallpaper and iPad background picture is copyright Summit Entertainment.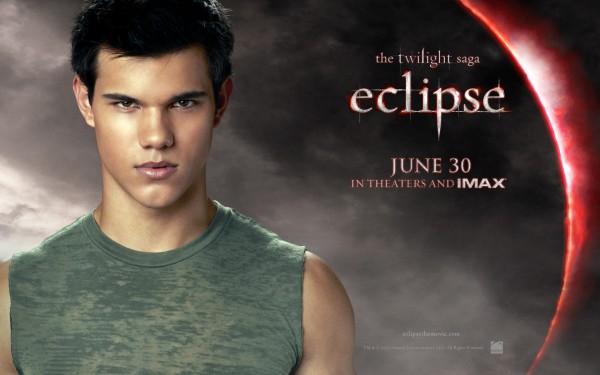 Jacob from Twilight Eclipse wallpaper - Click picture for high resolution HD wallpaper
Mac/PC Instructions:
Click preview image above to download or view full size free desktop wallpaper.
Right-click on full size image and select option to set as wallpaper or desktop background/picture.
iPhone/iPad Instructions:
Tap preview image above to display full size wallpaper image for the iPhone/iPad.
Touch and hold your finger on the image until the side-up menu appears and select "Save Image".
Go to Settings and select Wallpaper.
Select either the lock screen or springboard background.
Select "Camera Roll" and find the image you saved in step 2 and tap it.
Move and scale the image as desired, then tap "set" to set iPhone/iPad wallpaper background.
License and Terms of Use
These pictures are NOT stock photos and may not be used as such.
Wallpaper images are licensed for personal use as desktop backgrounds ONLY.
All commercial use of these images and pictures is prohibited.
These desktop backgrounds and wallpapers may NOT be reproduced, retransmitted, or redistributed in whole or in part, in any form or by any means, without express written consent.
Wallpaper may NOT be altered or modified.
The watermark on the picture may NOT be altered, removed or obscured.
Browse More Free Wallpaper Like This Picture: