Indian Blue Peacock Wallpaper
&nbsp
Free and Legal Music Downloads! Act Now!
An Indian Blue Peacock rests in the grass. Animal bird bright blue head and neck feathers. The Indian Peafowl is a resident breeder in the Indian subcontinent. The peacock is designated as the national bird of the Republic of India and the provincial bird of the Punjab (Pakistan). The male (peacock) Indian Peafowl has iridescent blue-green or green coloured plumage. The so-called "tail" of the peacock, also termed the "train," is not the tail quill feathers but highly elongated upper tail coverts. The train feathers have a series of eyes that are best seen when the tail is fanned. All species have a crest atop the head.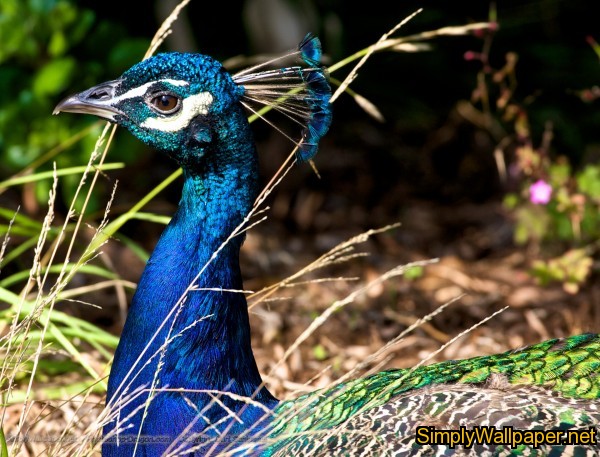 Indian Blue Peacock wallpaper - Click picture for high resolution HD wallpaper
Mac/PC Instructions:
Click preview image above to download or view full size free desktop wallpaper.
Right-click on full size image and select option to set as wallpaper or desktop background/picture.
iPhone/iPad Instructions:
Tap preview image above to display full size wallpaper image for the iPhone/iPad.
Touch and hold your finger on the image until the side-up menu appears and select "Save Image".
Go to Settings and select Wallpaper.
Select either the lock screen or springboard background.
Select "Camera Roll" and find the image you saved in step 2 and tap it.
Move and scale the image as desired, then tap "set" to set iPhone/iPad wallpaper background.
License and Terms of Use
These pictures are NOT stock photos and may not be used as such.
Wallpaper images are licensed for personal use as desktop backgrounds ONLY.
All commercial use of these images and pictures is prohibited.
These desktop backgrounds and wallpapers may NOT be reproduced, retransmitted, or redistributed in whole or in part, in any form or by any means, without express written consent.
Wallpaper may NOT be altered or modified.
The watermark on the picture may NOT be altered, removed or obscured.
Browse More Free Wallpaper Like This Picture: