Hometree from Avatar Wallpaper
&nbsp
Free and Legal Music Downloads! Act Now!
Hometrees (Na'vi name: Kelutral) are massive trees that can be found throughout Pandora. Many Na'vi clans, such as the Omaticaya and the Tipani make their home in these enormous plants. From the James Cameron movie Avatar.
Hometrees are generally described as being more than a hundred meters tall, with a hollow base supported by mangrove-like roots. Within this base there are many columns, creating a large central area. In this central area is a natural spiral staircase, which the Na'vi use to move up and down the tree.
The Omaticaya Hometree is located above a rich deposit of unobtanium, possibly one of the richest on the planet, putting the Na'vi in conflict with the RDA's interests due to the value of said mineral. In Avatar, the Hometree of the Omaticaya clan was obliterated by the RDA's security forces using high explosive missiles, after driving the Na'vi out with tear gas, forcing the remaining Na'vi to relocate.
The Hometree was presumed to be over a thousand years old due to its rarity and size. It is believed that hundreds of generations of Na'vi have lived there (and are buried in its roots). Colonel Quaritch referred to it as "one big damned tree" before destroying it during the Destruction of the Hometree. This image is copyright 20th Century Fox.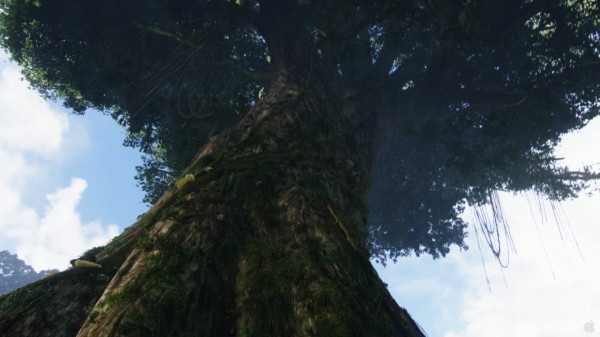 Hometree from Avatar wallpaper - Click picture for high resolution HD wallpaper
Mac/PC Instructions:
Click preview image above to download or view full size free desktop wallpaper.
Right-click on full size image and select option to set as wallpaper or desktop background/picture.
iPhone/iPad Instructions:
Tap preview image above to display full size wallpaper image for the iPhone/iPad.
Touch and hold your finger on the image until the side-up menu appears and select "Save Image".
Go to Settings and select Wallpaper.
Select either the lock screen or springboard background.
Select "Camera Roll" and find the image you saved in step 2 and tap it.
Move and scale the image as desired, then tap "set" to set iPhone/iPad wallpaper background.
License and Terms of Use
These pictures are NOT stock photos and may not be used as such.
Wallpaper images are licensed for personal use as desktop backgrounds ONLY.
All commercial use of these images and pictures is prohibited.
These desktop backgrounds and wallpapers may NOT be reproduced, retransmitted, or redistributed in whole or in part, in any form or by any means, without express written consent.
Wallpaper may NOT be altered or modified.
The watermark on the picture may NOT be altered, removed or obscured.
Browse More Free Wallpaper Like This Picture: