Heroes of Cats and Dogs Wallpaper
&nbsp
Free and Legal Music Downloads! Act Now!
A wallpaper picture image of Diggs the dog, Catherine the cat and Seamus the pigeon from the movie Cats and Dogs The Revenge of Kitty Galore. Just like real spies, only furrier! A talented but out-of-control German Shepherd, Diggs' hot-dogging got him booted from the police academy and bound for the pound. He was rescued by leaders of the covert canine protection agency D.O.G., who believe Diggs has the heart to be a great agent if he can bring his ego to heel and learn to work with the pack.

See all Cats and Dogs Movie wallpaper
Download the Cats And Dogs Movie soundtrack now!
In the age-old battle between cats and dogs, one crazed feline has taken things a paw too far. Kitty Galore, formerly an agent for cat spy organization MEOWS, has gone rogue and hatched a diabolical plan to not only bring her canine enemies to heel, but take down her former kitty comrades and make the world her scratching post. Faced with this unprecedented threat, cats and dogs will be forced to join forces for the first time in history in an unlikely alliance to save themselves—and their humans—in "Cats & Dogs: The Revenge of Kitty Galore," a comedy in 3D that blends live action with state-of-the-art puppetry and computer animation. It's time for the fur to fly.
Warner Bros. Pictures presents, in association with Village Roadshow Pictures, a Mad Chance/Polymorphic Pictures Production: "Cats & Dogs: The Revenge of Kitty Galore," a comedy in 3D starring Christina Applegate, Michael Clarke Duncan, Neil Patrick Harris, Sean Hayes, James Marsden, Bette Midler, Nick Nolte, Joe Pantoliano, Katt Williams, Chris O'Donnell, Jack McBrayer, Fred Armisen and Paul Rodriguez. This Cats and Dogs wallpaper picture desktop background photo image is copyright Warner Brothers.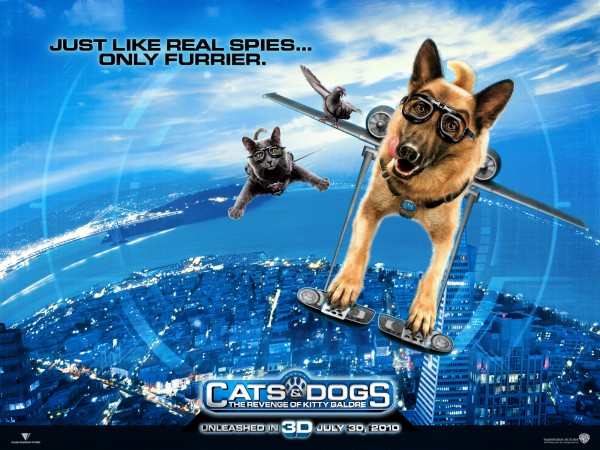 Heroes of Cats and Dogs wallpaper - Click picture for high resolution HD wallpaper
Mac/PC Instructions:
Click preview image above to download or view full size free desktop wallpaper.
Right-click on full size image and select option to set as wallpaper or desktop background/picture.
iPhone/iPad Instructions:
Tap preview image above to display full size wallpaper image for the iPhone/iPad.
Touch and hold your finger on the image until the side-up menu appears and select "Save Image".
Go to Settings and select Wallpaper.
Select either the lock screen or springboard background.
Select "Camera Roll" and find the image you saved in step 2 and tap it.
Move and scale the image as desired, then tap "set" to set iPhone/iPad wallpaper background.
License and Terms of Use
These pictures are NOT stock photos and may not be used as such.
Wallpaper images are licensed for personal use as desktop backgrounds ONLY.
All commercial use of these images and pictures is prohibited.
These desktop backgrounds and wallpapers may NOT be reproduced, retransmitted, or redistributed in whole or in part, in any form or by any means, without express written consent.
Wallpaper may NOT be altered or modified.
The watermark on the picture may NOT be altered, removed or obscured.
Browse More Free Wallpaper Like This Picture: