Flynn from Disney's Tangled Movie Wallpaper
&nbsp
Free and Legal Music Downloads! Act Now!
Wallpaper picture of Flynn Rider from the Disney CG animated movie Tangled desktop wallpaper, iPhone and iPad wallpaper background image.
The ultra-confident FLYNN RIDER is his own biggest fan, and he has long relied on his wit, charm and good looks to get out of even the stickiest situation – and Flynn's life just happens to be full of sticky situations. Flynn is a thief looking for the one last, big score that will allow him to finally live the life he's always dreamed of. He's never been closer to having it all when he meets Rapunzel, an odd girl with ridiculously long hair. Rapunzel seems to be the only girl in the world immune to Flynn's moves, and for the first time ever he seems to have met his match. An unlikely alliance with this girl from the tower sends Flynn on the adventure of a lifetime, and helps him realize that sometimes you don't know what you want... until it hits you over the head… literally.
See all wallpaper from Disney's Tangled
Download the "Tangled" movie soundtrack now!
Get Disney's Tangled videos, toys, games and more ...
Walt Disney Pictures presents in 2010 "Tangled," one of the most hilarious, hair-raising computer animated feature film tales ever told. When the kingdom's most wanted--and most charming--bandit Flynn Rider (voice of Zachary Levi) hides out in a mysterious tower, he's taken hostage by Rapunzel (voice of Mandy Moore), a beautiful and feisty tower-bound teen with 70 feet of magical, golden hair. Flynn's curious captor, who's looking for her ticket out of the tower where she's been locked away for years, strikes a deal with the handsome thief and the unlikely duo sets off on an action-packed escapade, complete with a super-cop horse, an over-protective chameleon and a gruff gang of pub thugs. In theaters this holiday season 2010 in Disney Digital 3D(TM), "Tangled" is a story of adventure, heart, humor and hair--lots of hair. This Tangled HD 1080p desktop background wallpaper image photo for iPhone and iPad wallpaper backgrounds is copyright Walt Disney Studios.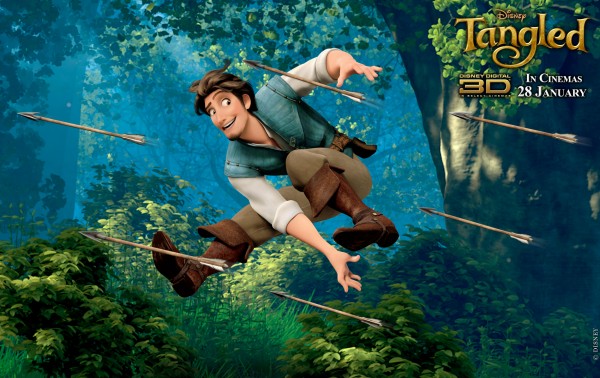 Flynn from Disney's Tangled Movie wallpaper - Click picture for high resolution HD wallpaper
Mac/PC Instructions:
Click preview image above to download or view full size free desktop wallpaper.
Right-click on full size image and select option to set as wallpaper or desktop background/picture.
iPhone/iPad Instructions:
Tap preview image above to display full size wallpaper image for the iPhone/iPad.
Touch and hold your finger on the image until the side-up menu appears and select "Save Image".
Go to Settings and select Wallpaper.
Select either the lock screen or springboard background.
Select "Camera Roll" and find the image you saved in step 2 and tap it.
Move and scale the image as desired, then tap "set" to set iPhone/iPad wallpaper background.
License and Terms of Use
These pictures are NOT stock photos and may not be used as such.
Wallpaper images are licensed for personal use as desktop backgrounds ONLY.
All commercial use of these images and pictures is prohibited.
These desktop backgrounds and wallpapers may NOT be reproduced, retransmitted, or redistributed in whole or in part, in any form or by any means, without express written consent.
Wallpaper may NOT be altered or modified.
The watermark on the picture may NOT be altered, removed or obscured.
Browse More Free Wallpaper Like This Picture: