Fiber Bundles Animusic Wallpaper
&nbsp
Free and Legal Music Downloads! Act Now!
Wallpaper picture of abstract instruments from Fiber Bundles, a CG animated music video with abstract virtual instruments that appear to play themselves from Animusic HD wallpaper.
See all Animusic wallpaper images...
Get Animusic CDs and DVDs now! Order Animusic here!
Animusic is an American company specializing in the 3D visualization of MIDI-based music. Founded by Wayne Lytle, it is incorporated in New York and has offices in Texas and California. The initial name of the company was Visual Music, changed to Animusic in 1995. The company is known for its Animusic compilations of computer-generated animations, based on MIDI events processed to simultaneously drive the music and on-screen action, leading to and corresponding to every sound. Unlike many other music visualizations, the music drives the animation. While other productions might animate figures or characters to the music, the animated models in Animusic are created first, and are then programmed to follow what the music "tells them" to. Many of the instruments appear to be robotic or play themselves using curious methods to produce and visualize the original compositions. The animations typically feature dramatically-lit rooms or landscapes. The music of Animusic is principally pop-rock based, consisting of straightforward sequences of triggered samples and digital patches mostly played "dry"; i.e., with few effects. There are no lyrics or voices, save for the occasional chorus synthesizer. According to the director's comments, most instrument sounds are generated with software synthesizers on a music workstation. Many sounds resemble stock patches available on digital keyboards, subjected to some manipulation, such as pitch or playback speed, to enhance the appeal of their timbre. This wallpaper picture image photo is copyright by Animusic and is for use as desktop background wallpaper and Animusic iPhone and iPad wallpaper.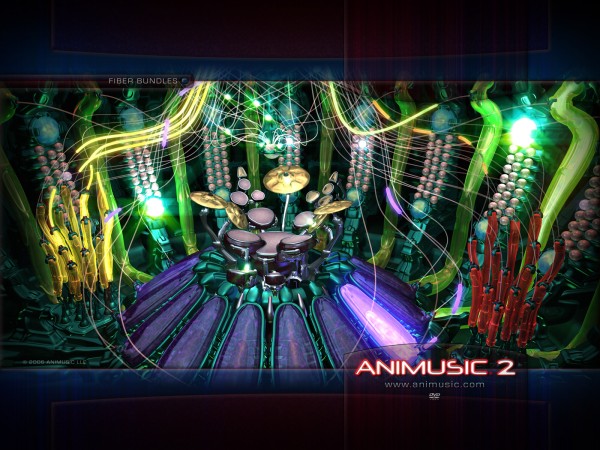 Fiber Bundles Animusic wallpaper - Click picture for high resolution HD wallpaper
Mac/PC Instructions:
Click preview image above to download or view full size free desktop wallpaper.
Right-click on full size image and select option to set as wallpaper or desktop background/picture.
iPhone/iPad Instructions:
Tap preview image above to display full size wallpaper image for the iPhone/iPad.
Touch and hold your finger on the image until the side-up menu appears and select "Save Image".
Go to Settings and select Wallpaper.
Select either the lock screen or springboard background.
Select "Camera Roll" and find the image you saved in step 2 and tap it.
Move and scale the image as desired, then tap "set" to set iPhone/iPad wallpaper background.
License and Terms of Use
These pictures are NOT stock photos and may not be used as such.
Wallpaper images are licensed for personal use as desktop backgrounds ONLY.
All commercial use of these images and pictures is prohibited.
These desktop backgrounds and wallpapers may NOT be reproduced, retransmitted, or redistributed in whole or in part, in any form or by any means, without express written consent.
Wallpaper may NOT be altered or modified.
The watermark on the picture may NOT be altered, removed or obscured.
Browse More Free Wallpaper Like This Picture: