Eudora, Big Daddy and Charolette from Princess and the Frog Wallpaper
&nbsp
Free and Legal Music Downloads! Act Now!
Tiana'a mother Eudora along with Big Daddy and Charolette from Disney's animated movie "The Princess and the Frog."
See all Princess and the Frog wallpaper...
EUDORA – Tiana's nurturing mother, who worries that her only daughter is working so hard to realize her dream, she is missing out on some of the most important things life has to offer. She is the best seamstress in all of New Orleans whose top client happens to be "Big Daddy" La Bouff. Eudora has created a wardrobe of Princess dresses for his beloved daughter, Charlotte.
CHARLOTTE LA BOUFF – Tiana's childhood friend – an enthusiastic, romance-obsessed and very spoiled debutante daughter of "Big Daddy" La Bouff – the richest man in all of Louisiana. Charlotte has dreamed of one day marrying a Prince and becoming a genuine Princess since she was four years old. When she finally sees an opportunity to make her fairy tale dream come true she is determined to make it happen.
ELI "BIG DADDY" LA BOUFF – Charlotte's father and wealthy sugar baron. He's affable, imposing and powerful, but melts to the whims of his headstrong daughter.

Walt Disney Animation Studios presents the musical THE PRINCESS AND THE FROG, an animated comedy set in the great city of New Orleans. From the creators of "The Little Mermaid" and "Aladdin" comes a modern twist on a classic tale, featuring a beautiful girl named Tiana (ANIKA NONI ROSE), a frog prince who desperately wants to be human again, and a fateful kiss that leads them both on a hilarious adventure through the mystical bayous of Louisiana. THE PRINCESS AND THE FROG marks the return to hand—drawn animation from the revered team of John Musker and Ron Clements, with music by Oscar®—winning composer Randy Newman ("Monsters, Inc.," "Cars," "Toy Story"). This Princess and the Frog desktop wallpaper background image iPhone wallpaper iPad background picture photo is copyright Walt Disney Studios.
Shop for Princess and the Frog toys, games, collectibles and more. Click here!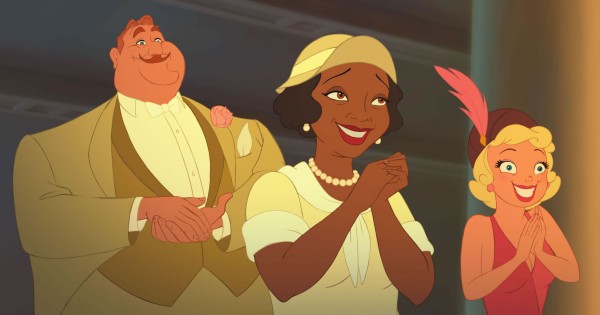 Eudora, Big Daddy and Charolette from Princess and the Frog wallpaper - Click picture for high resolution HD wallpaper
Mac/PC Instructions:
Click preview image above to download or view full size free desktop wallpaper.
Right-click on full size image and select option to set as wallpaper or desktop background/picture.
iPhone/iPad Instructions:
Tap preview image above to display full size wallpaper image for the iPhone/iPad.
Touch and hold your finger on the image until the side-up menu appears and select "Save Image".
Go to Settings and select Wallpaper.
Select either the lock screen or springboard background.
Select "Camera Roll" and find the image you saved in step 2 and tap it.
Move and scale the image as desired, then tap "set" to set iPhone/iPad wallpaper background.
License and Terms of Use
These pictures are NOT stock photos and may not be used as such.
Wallpaper images are licensed for personal use as desktop backgrounds ONLY.
All commercial use of these images and pictures is prohibited.
These desktop backgrounds and wallpapers may NOT be reproduced, retransmitted, or redistributed in whole or in part, in any form or by any means, without express written consent.
Wallpaper may NOT be altered or modified.
The watermark on the picture may NOT be altered, removed or obscured.
Browse More Free Wallpaper Like This Picture: