Edward from Twilight Eclipse Wallpaper
&nbsp
Free and Legal Music Downloads! Act Now!
Edward the vampire from the Twilight Saga Eclipse movie.
Click to see all Twilight Saga wallpaper...
Get Twilight Saga videos, books and more...
Edward Cullen (played by Robert Pattinson) was turned into a vampire by Carlisle Cullen when he was near death at the request of his mother. While he has tasted human blood, he only killed people who deserved it. He's currently a "vegetarian vampire" (i.e. doesn't eat people). Edward has also been to college multiple times, and has several graduate degrees, including 2 MDs (though he doesn't practice). His family is fairly wealthy as a result of being able to invest/collect interest over such a long time. Edward is musically oriented, and plays piano.
Edward, in love with Bella (human), constantly tries to keep her safe, which is a full-time job since she tends to attract danger and drama. Bella is determined to join Edward as a vampire and has asked him to "change" her so they can be together for eternity. Though Edward tries to convince Bella to stay human, Bella has made up her mind and Edward comes to terms with the fact that Bella will eventually ensure she is changed - if not by him, by someone else. Since Bella would prefer he were the one to change her, Edward agrees to do so on one condition: that she marry him first.
Edward becomes very protective of Bella in regards to her friendship with Jacob Black, a werewolf, who Edward fears might accidentally harm her. Because of this, Edward does not like Bella spending time with Jacob. Plus the Cullens and the werewolves have a history of discord. Bella's friendship with Jacob and love of Edward ends up providing them common ground and they decide to team up to fight against the growing threat of Victoria and her vampire army.
In THE TWILIGHT SAGA: ECLIPSE, Bella once again finds herself surrounded by danger as Seattle is ravaged by a string of mysterious killings and a malicious vampire continues her quest for revenge. In the midst of it all, she is forced to choose between Edward and Jacob knowing that her decision has the potential to ignite the struggle between vampire and werewolf. With her graduation quickly approaching, Bella is confronted with the most important decision of her life. This desktop background wallpaper image photo iPhone wallpaper and iPad background picture is copyright Summit Entertainment.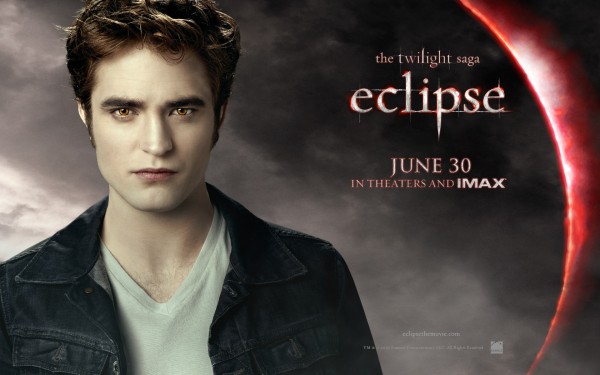 Edward from Twilight Eclipse wallpaper - Click picture for high resolution HD wallpaper
Mac/PC Instructions:
Click preview image above to download or view full size free desktop wallpaper.
Right-click on full size image and select option to set as wallpaper or desktop background/picture.
iPhone/iPad Instructions:
Tap preview image above to display full size wallpaper image for the iPhone/iPad.
Touch and hold your finger on the image until the side-up menu appears and select "Save Image".
Go to Settings and select Wallpaper.
Select either the lock screen or springboard background.
Select "Camera Roll" and find the image you saved in step 2 and tap it.
Move and scale the image as desired, then tap "set" to set iPhone/iPad wallpaper background.
License and Terms of Use
These pictures are NOT stock photos and may not be used as such.
Wallpaper images are licensed for personal use as desktop backgrounds ONLY.
All commercial use of these images and pictures is prohibited.
These desktop backgrounds and wallpapers may NOT be reproduced, retransmitted, or redistributed in whole or in part, in any form or by any means, without express written consent.
Wallpaper may NOT be altered or modified.
The watermark on the picture may NOT be altered, removed or obscured.
Browse More Free Wallpaper Like This Picture: