Danny DeVito in Dr. Seuss' The Lorax Movie Wallpaper
&nbsp
Free and Legal Music Downloads! Act Now!
Photo of Danny DeVito recording his lines for The Lorax from Dr. Seuss' The Lorax Movie 2012 desktop background.
See all Lorax Movie wallpaper -->
Get a Dr. Seuss audio book for free!
From the creators of Despicable Me and the imagination of Dr. Seuss comes the 3D-CG feature Dr. Seuss' The Lorax movie (2012), an adaptation of the classic tale of a forest creature who shares the enduring power of hope. The animated adventure follows the journey of a 12-year-old as he searches for the one thing that will enable him to win the affection of the girl of his dreams. To find it he must discover the story of the Lorax, the grumpy yet charming creature who fights to protect his world. Danny DeVito will lend his vocal talents to the iconic title character of the Lorax, while Ed Helms will voice the enigmatic Once-ler. Also bringing their talents to the film are global superstars Zac Efron as Ted, the idealistic youth who searches for the Lorax, and Taylor Swift as Audrey, the girl of Ted's dreams. Rob Riggle will play financial king O'Hare, and beloved actress Betty White will portray Ted's wise Grammy Norma. Dr. Seuss' The Lorax is the third feature created by Universal Pictures and Illumination Entertainment (Despicable Me, Hop). This desktop backgroup wallpaper picture image is copyright by Universal Pictures and is for use as PC/Mac wallpaper as well as iPhone/iPad/Android Lorax wallpaper.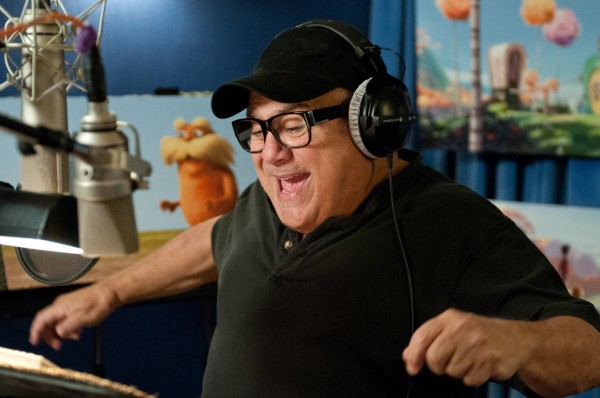 Danny DeVito in Dr. Seuss' The Lorax Movie wallpaper - Click picture for high resolution HD wallpaper
Mac/PC Instructions:
Click preview image above to download or view full size free desktop wallpaper.
Right-click on full size image and select option to set as wallpaper or desktop background/picture.
iPhone/iPad Instructions:
Tap preview image above to display full size wallpaper image for the iPhone/iPad.
Touch and hold your finger on the image until the side-up menu appears and select "Save Image".
Go to Settings and select Wallpaper.
Select either the lock screen or springboard background.
Select "Camera Roll" and find the image you saved in step 2 and tap it.
Move and scale the image as desired, then tap "set" to set iPhone/iPad wallpaper background.
License and Terms of Use
These pictures are NOT stock photos and may not be used as such.
Wallpaper images are licensed for personal use as desktop backgrounds ONLY.
All commercial use of these images and pictures is prohibited.
These desktop backgrounds and wallpapers may NOT be reproduced, retransmitted, or redistributed in whole or in part, in any form or by any means, without express written consent.
Wallpaper may NOT be altered or modified.
The watermark on the picture may NOT be altered, removed or obscured.
Browse More Free Wallpaper Like This Picture: